By: Jessica Swann, Director of Partnerships for Education
As TechChange's new Director of Partnerships for Education, I have been in learning mode this week at the Global Digital Health Forum, catching up on what my peers and new coworkers have been working on in this vital and fast-moving space.
In preparing for the conference, I dove into TechChange's wealth of materials within the Digital Health space, and I want to share an animated video that caught my eye as a high-quality, easy to understand instructional aide: "Standards and Interoperability in Digital Health: Explained." It really helped me to understand these complicated concepts.
I'm an education generalist, with a rather eclectic range of experiences. Yet across all my previous roles, whether I've been writing about in-depth topics on database administration, or leading a program to strengthen capacity for virtual teaching amongst university lecturers from the Peruvian Public Sector, I've seen the importance time and time again of distilling complex concepts into digestible, engaging educational assets. This video is a great example of that – the clear narration, illustrative graphics, and storytelling bring these digital health concepts to life. 
Storytelling to illustrate real-life problems
The video takes us to the fictional country of Onesa, where the government is implementing a national vaccination campaign. We meet Lucy, the National Immunization Officer, and Isaac, a health officer from one of the more rural districts. They share a goal of vaccinating children against disease, but are quickly faced with challenges that arise from multiple systems tracking key pieces of information such as the number of children who need to be vaccinated and the number of vaccines that are available.
This is exactly the kind of dilemma faced by healthcare leaders in countries around the world as they struggle to manage resources effectively.
Lucy and Isaac consider integrating the systems manually, but this quickly becomes too complex and costly to manage. Lucy has a whole country to manage for the immunization campaign, and Isaac has the other health issues in his district to consider. They can't afford to spend all their time doing manual, error-prone integration. The systems need to talk to each other in a way that's efficient and cost-effective.
Enter the concept of interoperability. 
What is 'interoperability' anyway?
Interoperability is the ability for multiple applications to communicate with one another by accessing, exchanging, and making use of data in a coordinated manner.
In the context of digital health, this means that health information systems like OpenIMS and DHIS2 can communicate directly and exchange data. As the video does a great job of explaining, standards help to achieve this. 
What are the different kinds of standards?
The video shows us that there are two different sets of standards to consider for interoperability:
Semantic standards – that help applications establish a common vocabulary; and
Syntactic standards – that allow applications to share a common grammar to communicate meaning.
It's amazing how much this sounds like language acquisition! In order to communicate and share information, systems have to have to understand the words and ways of putting them together…just like people.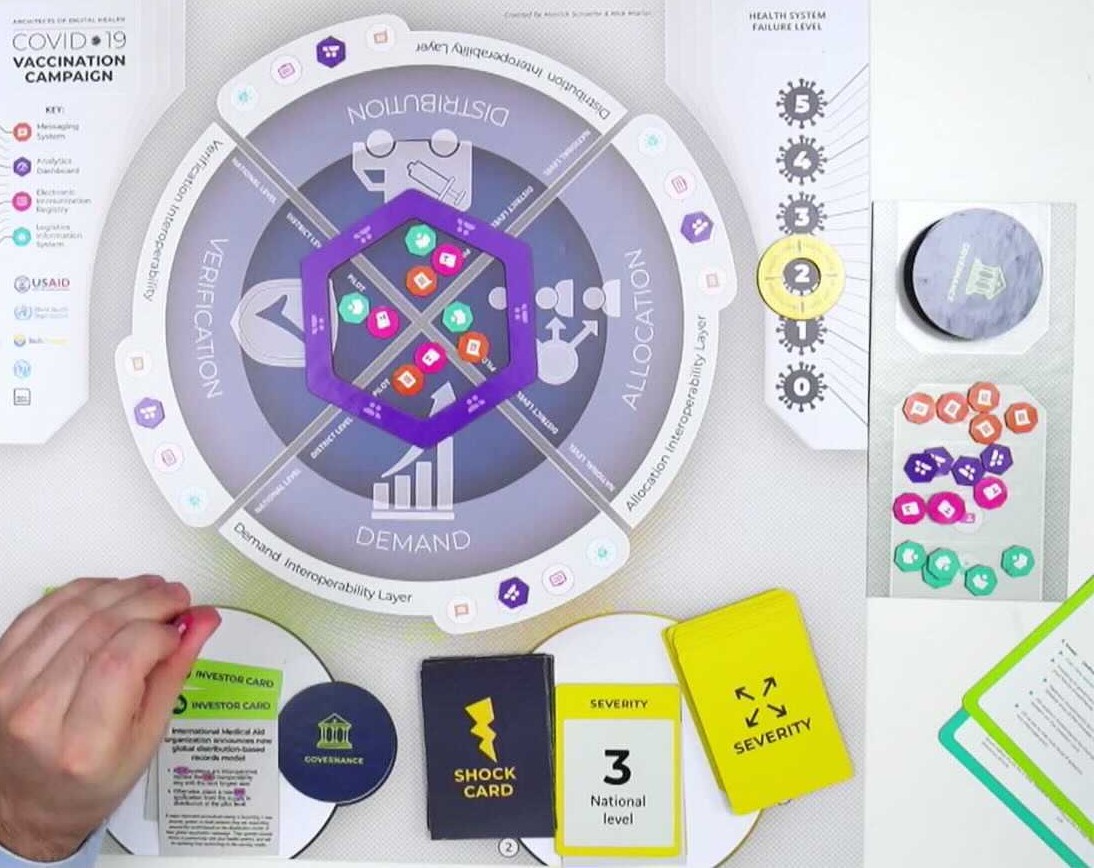 Countries can invest in a health information exchange, which is enterprise architecture that bundles all digital health applications together to provide guidance to software developers on how to manage interoperability between them. It stores lists of terms and concepts, and maps how they relate to each other. Kind of like the Rosetta Stone of digital health tools.
These terms can sound abstract, but in practice, standards and interoperability of digital health systems help save lives. Careful, systematic implementation of these concepts allows policymakers and decision makers to see population-level trends and make time-sensitive decisions that impact the lives in every locality, in every age group, and at each point in the health journey. 
Accessible knowledge for all
So there you have it, interoperability in a nutshell. And you don't need to be a software developer or digital health expert to understand the importance of this concept.
I love that the video makes it easy to understand the stakes and goals of digital health applications and makes simple the complex concept of interoperability.
In my role, I get to work with our partners to develop assets just like this, which can help explain complicated concepts and share knowledge across diverse learner communities. Indeed, at this very moment, we're working with IFAD on creating a digital agriculture course, to help policy makers and extension workers understand how concepts like interoperability have a role to play in the design and application of agriculture and environmental policy.
You see, standards and interoperability are just as important within digital agriculture as they are within digital health. Systems need to communicate with each other in order to help stakeholders manage information and make timely, evidence-based decisions to maximize yields and get food products to market.
I'm looking forward to flexing TechChange's amazing creative skills and instructional design muscles now and into the future, creating new videos and other web-based educational tools to help our partners to communicate all manner of complex ideas in ingeniously simple ways, and seeing the impact of this work in their programs.
This video was created by TechChange as a part of the Digital Health: Planning National Systems Course to support the training on standards and interoperability, funded by Digital Square, a PATH-led initiative funded and designed by the United States Agency for International Development, the Bill and Melinda Gates Foundation, and a consortium of other investors.