Fifteen months into the COVID-19 pandemic, Zoom fatigue had many of us practically catatonic in front of our screens. So how was the Society for International Development – Washington Chapter (SID-W) able to reverse this trend and put on a virtual conference that actually proved to be more engaging, more interactive, and more inclusive than any prior SID-W event?
SID-W joined forces with our team at TechChange to co-design their annual event on the TechChange platform. We leveraged a new community-led model that transformed the conference experience into one that no longer relies exclusively on organizer-led sessions or speakers.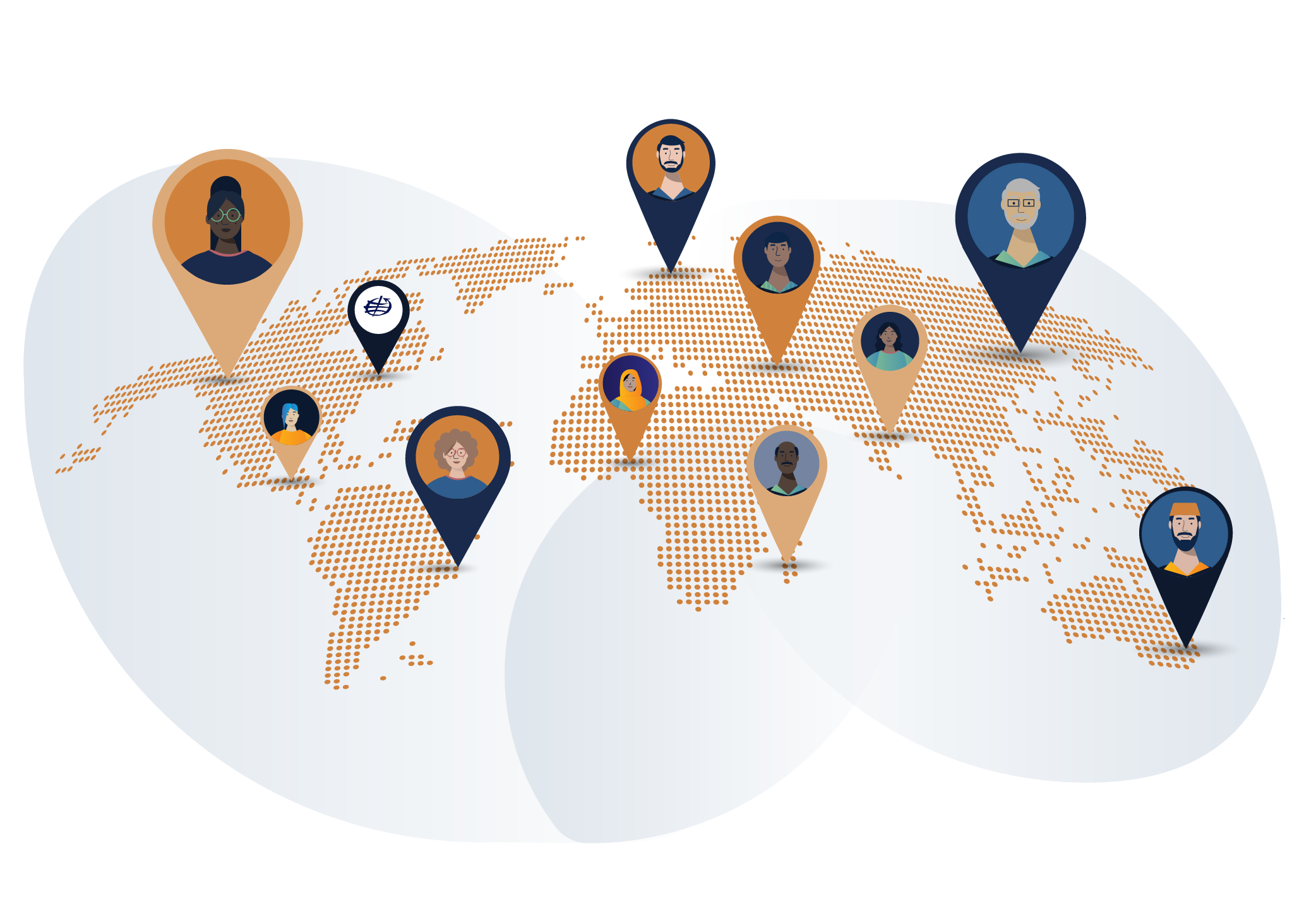 Compared to a traditional DC-based event, the online nature of the SID-W Virtual Annual Conference resulted in 1300+ participants from over 60 countries drawing from development practitioners, implementing partners, local staff, NGO partners, and more, with over 50% being first-time attendees.
Leveraging over a decade of experience facilitating courses, workshops, and events, the TechChange team utilized strategies from our educator toolkit to deliver a memorable virtual experience for – and with – the participants.
Here are a few highlights:
Innovation Showcase 3D World
Showcasing innovation was critical to the SID-W team – both in terms of the way the conference took place but also in the content to be shared. So to display the Innovation Award finalists' pitches in a way that was true to form, SID-W asked TechChange's 3D artist and developer team to build an Innovation Showcase 3D World using Mozilla Hubs. The virtual space hosted pitches from the four finalists on large virtual television screens inside a 3D recreation of the magnificent National Portrait Gallery Atrium. In addition, using 3D avatars, innovation finalists conversed with conference attendees and potential investors inside the unique space. Participants then voted for the "Best of Show," which was announced at the closing ceremony.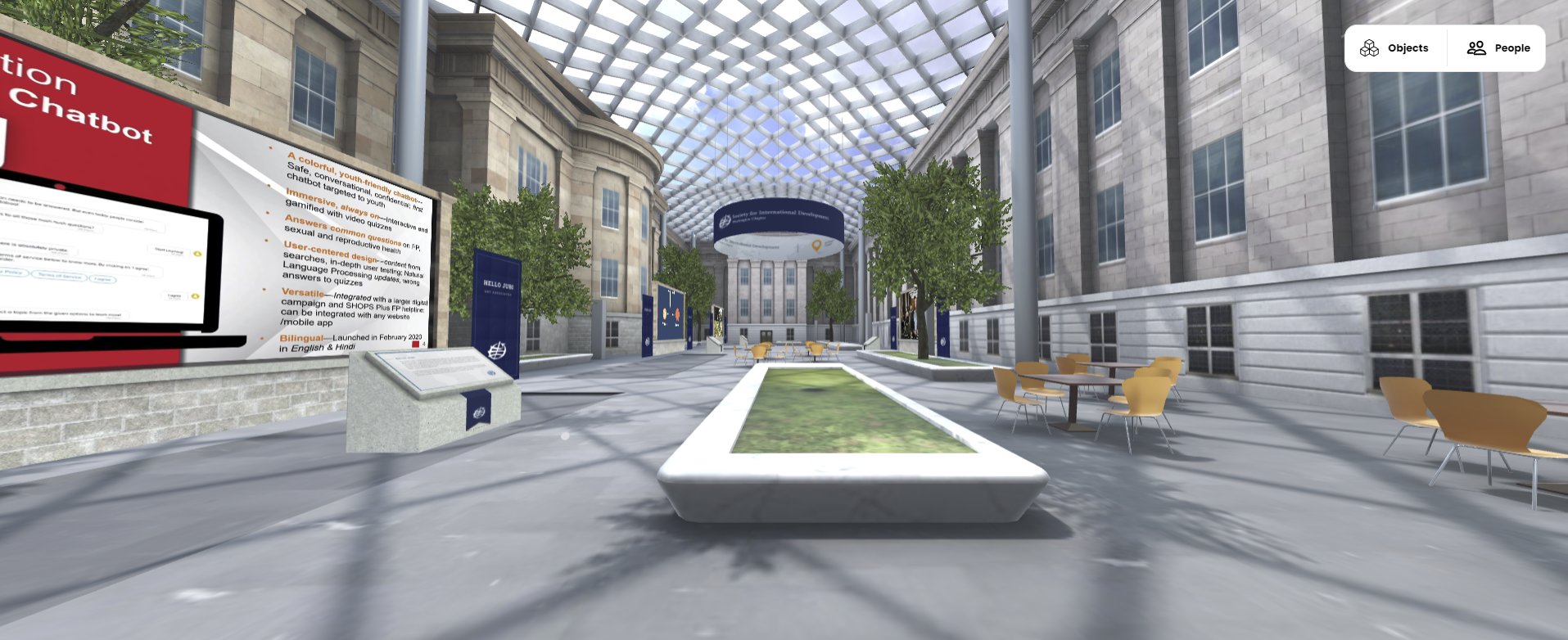 Not your average exhibition hall
The Exhibition Hall interface was significantly enhanced compared to last October's debut SID-W virtual conference, generating leads for both sponsors in business development and recruitment and job-seeking participants. In addition to the platform-embedded Exhibition Hall resource library, SID-W wanted to liven things up by enabling real-time video networking between sponsors and participants.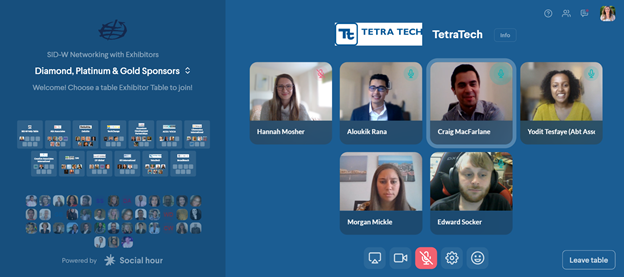 Through an integration with Social hour, TechChange created over 40 virtual tables across four virtual rooms. Instead of leaving the rooms indefinitely open and hoping participants would find their way there, SID-W intentionally designed the agenda such that it would funnel participants into the interactive space for one hour each day. This dedicated space, designed to spark lively conversations and targeted outreach, attracted over 200 participants online simultaneously. Sponsor Tetra Tech commented that "[i]t was the closest 'in-person' experience we've had at an event yet!"
Crowd-sourced roundtable discussions
A few months before the conference, SID-W sent out a call for community members to submit topics for the Roundtable Discussions. After receiving over 70 topics, SID-W members, staff, and the Annual Conference Committee selected the top 20, including: "Decolonizing Aid: Gender Equality & Social Inclusion," "Dignity in Development," and "Using Blended Finance at Scale to Achieve the SDGs." During Day 2 of the conference, over 260 participants joined their peers at virtual tables on Social hour for intimate, facilitated discussions. Multiple participants noted the Roundtable Discussions session as the highlight of their SID-W virtual conference experience.
"I got the most out of the roundtable I attended."

SID-W Conference Attendee
Organic networking sessions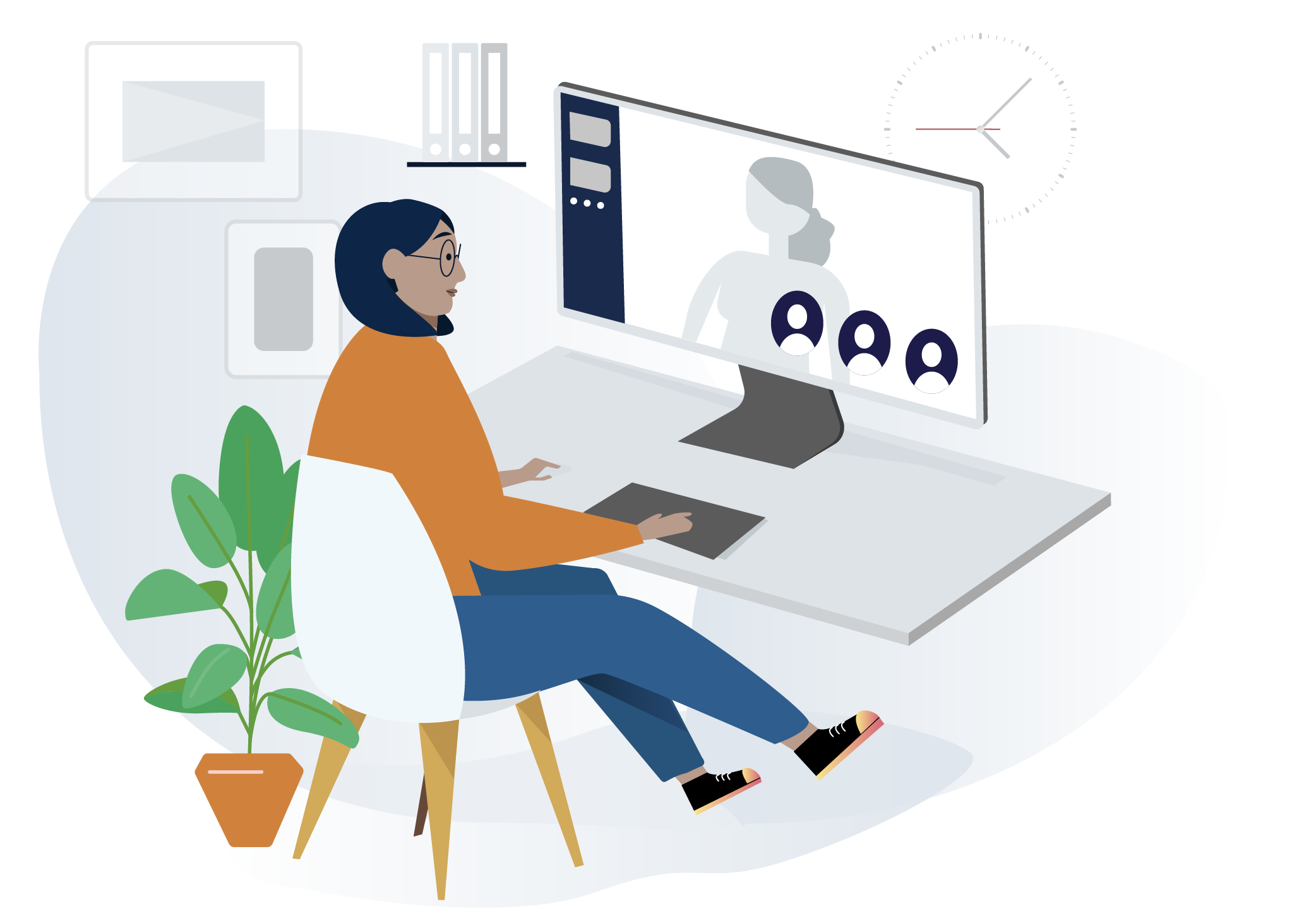 The Open Networking sessions, also leveraging TechChange's Social hour integration, provided a medium for lively conversations that were less structured than the scheduled events. This free-form format led to the organic formation of the "Amis Francophones" Table, sparked by one of the attendees who hoped to connect with other Francophiles. French speaking SID-W members from around the globe were able to meet and exchange – a feat that could not have been accomplished had the conference been held in person.
"The best online networking platform I've seen to date – really felt like wandering around a room and chatting with people."

SID-W Conference Attendee
Ideas Library & Open Discussion Forums
The Ideas Library provided an opportunity for conference participants to interact with the hosts of Lightning Talks. Open Discussion & Networking forums allowed speakers and participants alike to spark new conversations on timely topics. For example, conference speaker Wayan Vota started a thread asking "[w]hat is the largest COVID-19 change in your work?" which garnered over 30 responses. Others exchanged knowledge on topics like data management and DEI. SID-W Program Associates also utilized the Ideas Library to share summaries of plenaries, panels, and Learning Labs in real time, creating a forum for attendees to continue the critical conversations.
Gamification: SID-W Points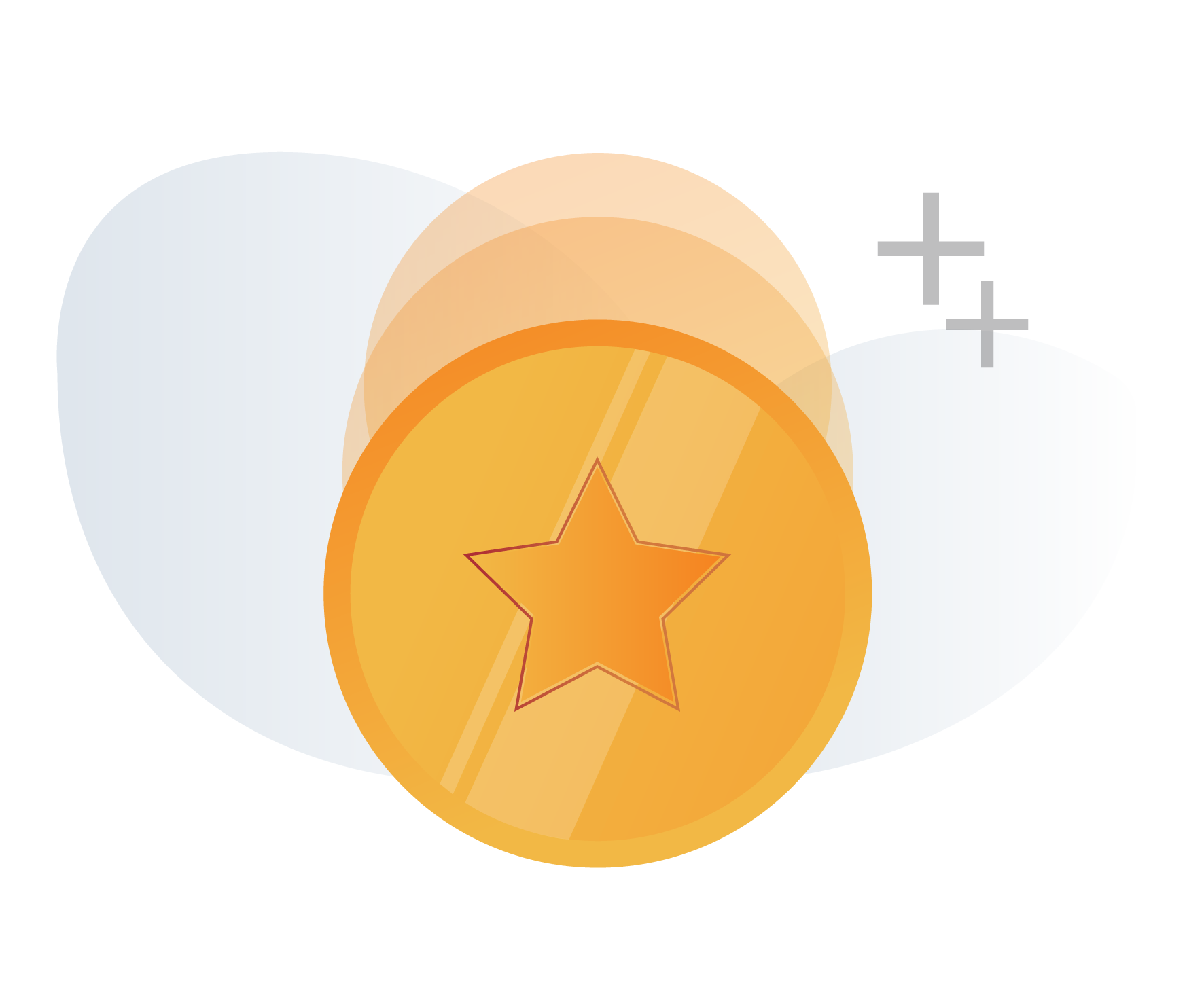 Knowing attendees would likely be motivated to engage more by gamifying the conference experience, SID-W opted to turn on the points feature on the TechChange platform. To receive "SID-W Points," attendees used different features throughout the platform, such as creating a profile for networking purposes, attending sessions, engaging in session chats to introduce themselves to fellow participants, and commenting on each other's work. The winner earned an impressive 475 points!
The SID-W annual conference was second to none in engaging its membership to create a two-day community-led conference experience – one that enlivened even its most embattled Zoom-fatigued members.
This blog is written by Thomas Liu