As we settle into 2018 and launch a variety of new courses, workshops, and ways to innovate our approach to online learning, we're thankful to you, our TechChange community, for your unwavering support! In the last year, we've trained over 7,000 people from 155 countries on our platform alone.
Check out a few of the cool things we were able to do in 2017.
We've released new features on our online learning platform!
Frontend editing

:

Course administrators can now type directly into the platform section that you would like to update or add information to. The new inline editing feature means easy access to editing/updating content, a cleaner design, and a direct way to see real-time updates of changes that you're making to your course content.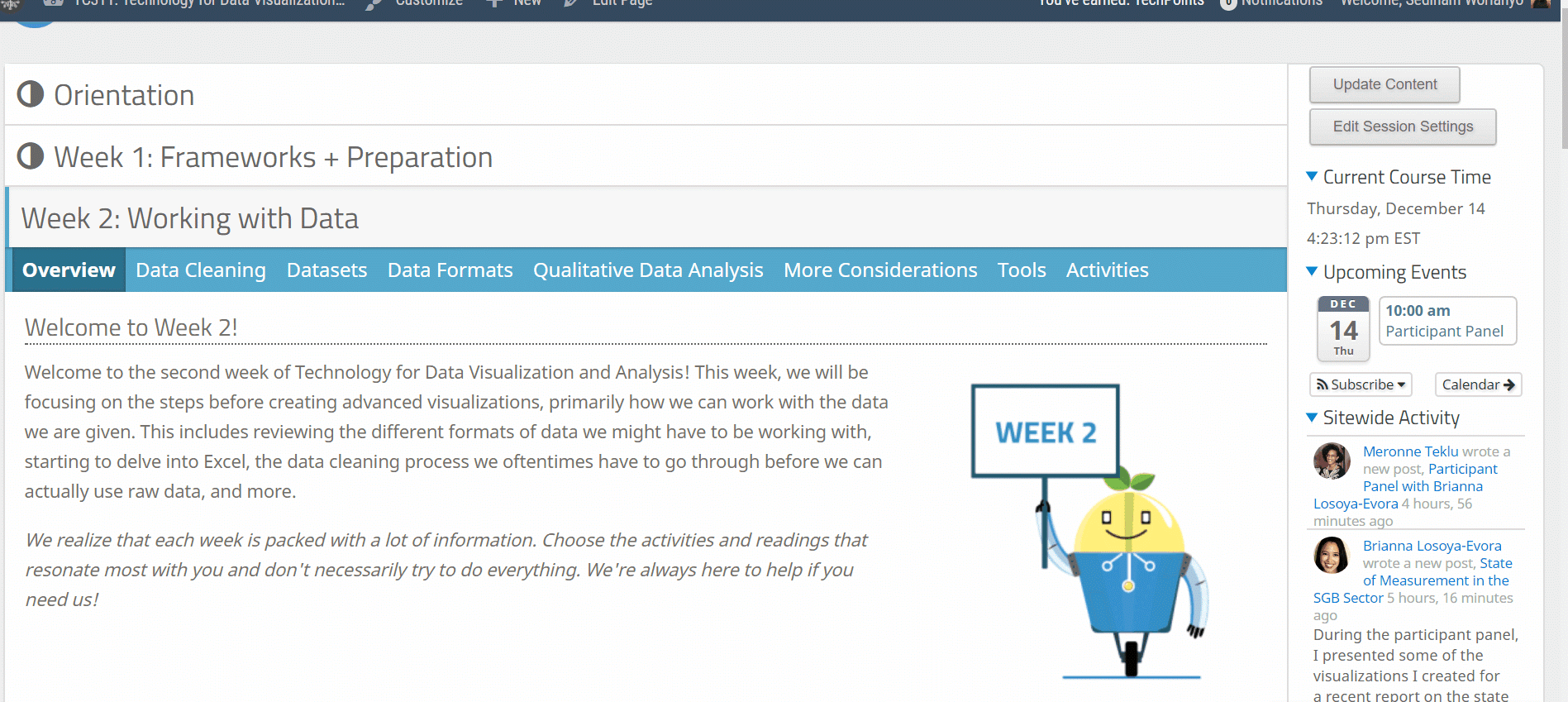 Completion tracking

: Course administrators can now track module completion with our new rules feature. By simply setting "rules" for each slide, submodule, and module, learners will be alerted with a green check mark if they have completed the appropriate section.
Progress view

: Course administrators can now view the progress of their students holistically with the new progress view. Based upon the rules of each course, the progress view details where students are in relation to course completion, when they were last active, and which modules have been completed.

We've developed informative interactive modules!
IFC Gender Course

: TechChange partnered with IFC (International Finance Corporation) to create a multi-module course on the business case for gender smart solutions. The course is customized with three different industry tracts that users can choose between depending on what is most relevant to their work.

Jhpiego MCSP

: The Faculty Development Program represents a major accomplishment for the Instructional Design team over the summer and fall seasons. The program is centered around best practices for medical practitioners and is meant to improve educational quality and teaching skills for practitioners in Liberia and beyond.

CCAP

: TechChange built a self-paced course for the Coastal Cities Adaptation Project of Mozambique that focused on the basics of climate change, adaptation, disaster risk reduction, and urban resilience. The course featured many video interviews (filmed by TC staff) with important stakeholders involved in climate change management in Mozambique.  
We've created some beautiful content!
We've hosted interesting workshops and traveled to many places!
Mozambique for CCAP

: In January 2017, Shannon, Emily, and John traveled to Maputo and Pemba, Mozambique to record interviews with key stakeholders involved in climate change adaptation and disaster risk reduction efforts across the country. The interviews were incorporated into the four-module self-paced course built to empower individuals with the fundamentals of climate change, preparedness, and urban resilience.

Maine for PopTech

: In October, the TechChange team headed to Camden, Maine for the 2017 PopTech Conference: Instigate, where we provided tech support, photography, and conference marketing support.

Boston for Connected Health Conference

: In October, Chris, Yohan, and Meronne went to Boston, Massachusetts to provide event support with photography and video interviews.

Qatar for WISE

: Chris and Austin traveled to Doha, Qatar for the World Innovation Summit on Education (WISE Summit) for a series of plenaries and workshops on the future of education.

Washington, D.C. for the World Bank Youth Summit

: Nick gave an interactive workshop on blockchain for international development.

Instructional Design Workshops

: Throughout the year at TechChange Headquarters, Isabel lead different instructional design with Articulate 360 workshops. Click

here

to sign up for the next one!

TechGirls 2017

: For the fifth year in a row, we've had the honor of hosting two brilliant young leaders from the

TechGirls State Department program

. This year, Passant Abu-el-Gheit and Reem Saado shadowed the various teams hard at work making online courses in the TechChange office, and contributed a few creations of their own. Read the full blog post

here

!
We're launching new online courses!
As we continue to build and create beautiful courses, we're excited to start licensing our online learning platform to organizations and continue building our expertise in online learning. A recent study on capacity building done by the Global Knowledge Initiative listed TechChange as the number one cited source individuals and organizations used most to improve curriculum design, further teaching pedagogy, develop online modules, and build presentation and facilitation skills. We look forward to continue building our online learning skill sets.
We hope to see you online, in person, or in a course!