"We want to rewrite the narrative about being the minority in the room and show each other we exist, we have been existing, we have been creating, we have been leading, and more importantly, we have one another to learn from, to connect with, to support, and to share our expertise. "
Excerpt from Welcome Address, Tech Intersections Conference Brochure
Maira Benjamin, Idalin Bobé, Tiffany Price, Ellen Spertus
This paragraph jumped out at me from the Tech Intersections conference brochure. It was a necessary reminder that in the room where I sat, we were all contributing to shaping a rich and powerful narrative; a narrative driven by women unafraid to claim space in a primarily male-dominated sector. As I looked around, peering at the people in the room, I made a conscious note to myself not only to be fully present with the inspirational women of color in the room but also to share the lessons and takeaways I gleaned from the conference far beyond the confines of the conference walls.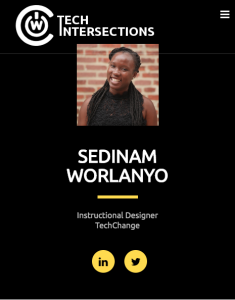 Tech Intersections was a conference that took place in Mills College in Oakland, California with the aim of celebrating women of color in computing. I had the opportunity to present on a panel with one of my great friends from Swarthmore College, Kendell Byrd, who currently works at BuzzFeed in LA, and a friend from Kendell's Code2040 network, Patricia Perozo, who works at Brigade in SF. We all recently graduated in May 2017.
As we prepared our proposal for the conference, we realised that coming out of college, there is sometimes a misconception that there are single pathways or specific locations or organizations that computer scientists need to work in to "succeed" in their field. This led us to choose the topic, "Multiple Pathways: Choosing the Tech Job that's Best for You."
Our panel debunked the myth that there was a single narrow Computer Science pathway and highlighted how we had combined our multiple passions with our Computer Science background; passions ranging from entertainment and theatre to government, policy, and education. I spoke specifically about my Computer Science journey at Swarthmore College and how I was combining my interests in technology and education with my current job at TechChange!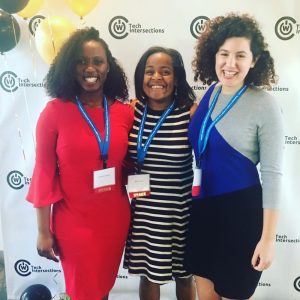 From left to right: Sedinam Worlanyo, Kendell Byrd, and Patricia Perozo
At the beginning of the panel, we conducted a poll to better understand who our audience was. We observed that the majority of the attendees in our panel were people trying to break into tech. We also had some students who wanted to learn more about our experiences in college and in the workplace, and the resources we capitalized on to get to our current positions. We talked about everything from the definitions of a "good company fit" in our job searches to the highlights of our job experiences, and challenges we faced in transitioning from college to the workplace.
One important theme that came up was the "danger of feeling isolated". On different levels, we each at some point had felt a bit isolated when we were studying Computer Science. Patricia recounted a relatable story about how in college, she was struggling when working on a CS lab and tried to find someone in her dorm to help explain some concepts to her. She came across a group of people working together on the lab. The realization that struck her was one that also hit me in college. It is important to intentionally seek out and build support and accountability systems. I think it's also important that people share that no one is where they are solely because of themselves or hard work. That might help break some of the high pedestals on which people in tech are placed, and might make studying computer science more accessible to others.
In our TechChange courses, one tool we adopt is the "Study Buddy" system. Through that system, people can partner up with other members of a course for support and accountability throughout the course.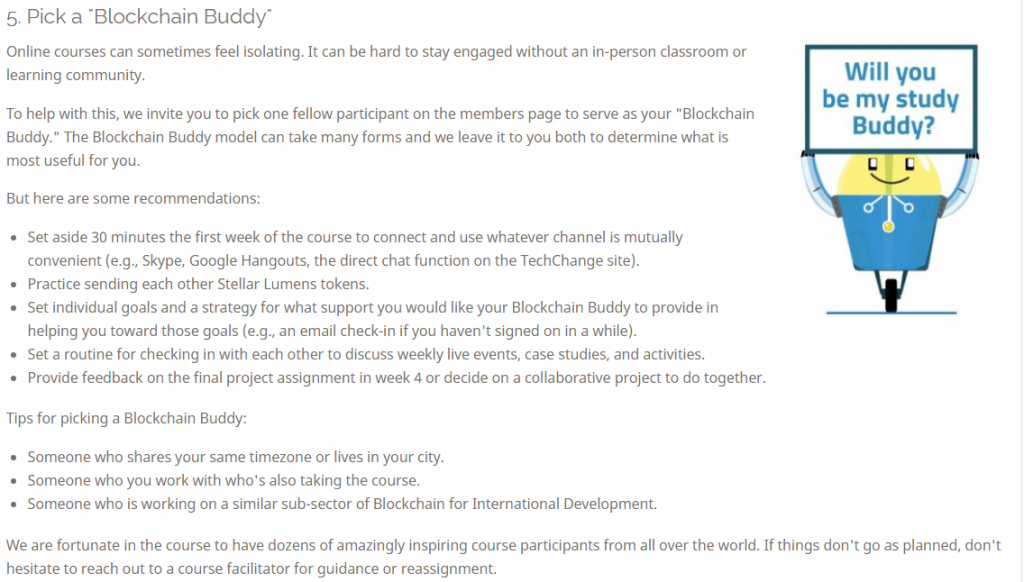 Image from our Blockchain for International Development course
Working independently is a great skill but in addition to that, we need to know when to ask questions, seek help, and collaborate. The "study buddy" helps people to do this on the peer level.
Attending the conference allowed me to reflect a lot on things we can build upon even further at TechChange. I'm Ghanaian and personally, I love when I look at the list of guest experts in our TechChange online courses and see that someone from the African continent is represented. That our voices are helping to shape the discussion of "international development"; voices that have often been excluded from conversations that drive decisions that affect them – that affect us. I also appreciate that in my work with client partnerships, I support our partners and also have the opportunity to see people from the African continent that are learning various technologies through these courses. Diversity in thought is important and I'm excited to see how we further expand voices and perspectives in our courses.
This conference was a tremendous learning and growth opportunity. A huge thank you to TechChange for helping to sponsor my trip to California!