Today, we're excited to share an interview with TechChange alum Ladislas Hibusu! Ladislas has completed 5 courses and is currently taking his sixth. Learn more about his journey and how TechChange has impacted his career below.
1.  What got you interested in taking TechChange courses?
I first heard of TechChange from a colleague who was a TechChange alum. At the time, I was grappling to understand my new role as a Global Health Corps (GHC) fellow at a local NGO that was dealing with behavior change. My new position meant that I had to have certain skill sets if I were to succeed. It was around that time that my colleague shared TechChange's TC111: Technology for Monitoring and Evaluation course. After reviewing the course content, I jumped at the opportunity to sign-up.
2.  After completing your first course with TechChange, what made you enroll in more courses?
After taking TC111: Technology for Monitoring and Evaluation, I was particularly fascinated with the themes, exercises, case studies, featured articles and reading materials but most importantly the top-notch industry experts from the live sessions who provided great insight on real-time trends. The recorded videos have also been a useful tool for expounding on themes such as mHealth, mAgric, mEducation, mFinance and other topics. The industry experts such as Joel Selaniko gave great insight into their area of expertise. However, TechChange facilitators like Norman, Kendra and Jennifer will tell you that what I am particularly passionate about are the great tech tools and platforms that are a big piece of the course. The unique nature of the tools and the way the recorded and live demos are presented is something anyone wanting to go further in their career could not resist.
I have positioned myself as a competitive data engineer not with a degree in an engineering field, but with the willingness to learn and lean on the shoulders of the experts that these TechChange courses have introduced me to.
3.  How have TechChange courses impacted your career?
The most significant impact that TechChange courses have offered me are the skills that have translated into making me competitive in the job market. While taking TC111, I was engaged as a Data Quality Consultant in an end-line evaluation of the project impact. Immediately after, I was hired as an independent Technical Monitoring and Evaluation consultant with two reputable international NGOs. Sooner rather than later, all I will need in my work life will be my eyes, head, hands, a mobile phone, laptop with Internet connectivity and the appropriate state of the art software. I will have earned my reputation of "getting jobs done" beyond the hire's expectation.
4.  What is your advice for other participants taking a TechChange course? How can they get the most out of it?
• Research broadly: Go beyond the course content, especially in their areas of interest, as this will enable them to know exactly what to ask from the expert speakers in order to get the maximum benefit.
• Utilize the networks/connections: TechChange connects us to global experts and thought leaders in their own areas. For instance, I found that the project that one of the experts and TechChange alum Mira Gupta was working on was similar to what initially drove me into taking the TechChange courses. Engage with other participants too as they have a wealth of experience on this topic. I have received valuable resources out of the TechChange platform from the colleagues I met via the courses, which have been a great boost to my career.
————————————-
About Ladislas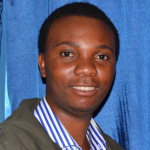 Ladislas Hibusu is a researcher and a Monitoring and Evaluation consultant. Over the years, he has come to love making research inquiries and helping students and companies on baseline, mid-line and end-line evaluation of their project impacts. He has also worked on the technology side of data documentation. Before working with Jhpiego as a consultant, he was a Global Health Corps fellow in the 2013/14 year and also consulted with Futures Group Global Inc. as a Data Quality Consultant. After receiving his college degree in Library and Information Studies and Demography, he spent time working as a Librarian and life coach at an organization that helps orphaned and vulnerable children realize their dreams. Ladislas can be found on Twitter at @tracykhibusu
————————————-
How has TechChange's course affected your career? We would love to hear your story too! Reach out to us at info@techchange.org