Photo credit: TextIt
I am not tech savvy. I do not keep up with the newest phones or gadgets and I have no idea how to build a website. However, I have been texting for many years and I know that if I can master the SMS system and stay connected through messaging, anyone can. Which is why I was so impressed by TextIt, a messaging platform that is simple yet can achieve so much- from surveying dispersed populations to disseminating life-saving information that may not have otherwise reached its target destinations.
When learning about the tool and using it in the Mobiles for International Development class, I was thinking about access, a main concern of mine within international development. Not only did I find TextIt accessible to me as the creator of a campaign in terms of the ease of building an SMS flow (again, if I can do it, most people can), but also in the array of possibilities of its relevance. Whether it is access to clean water, healthcare, education, or safe roads, TextIt provides a platform for people on the ground, even those in the most remote areas, to communicate their experiences and needs through the tips of their fingers.
In my own field of interest, namely providing access to education to marginalized populations in developing countries and humanitarian settings, I believe TextIt could be an asset. I can see it being used for purposes of teacher training, of understanding if a regional school system is being inclusive of the community's children with disabilities, or even in a post-disaster situation, letting communities know about impromptu schools being set up by organizations and finding how many children are not in school. The possibilities are countless.
TextIt has the potential to expand more widely in several areas. Currently, it only operates on Android phones and I would hope that the developers are working to make it accessible to other mobile companies so as to increase access. In addition, survey taking may not be familiar to some cultures and seeing the large-scale success of TextIt could take a lot of time. Though the SMS system may be quick, cost efficient and reach many people, it does eliminate the human aspect of international development and the nuances of person to person conversations are lost through the mobile devices (for example, you can survey a group of villagers about the infrastructure in the area, but unless the person developing a campaign physically goes to see the area, much of the reality is lost). Moreover, a survey that is not well-planned or well-worded or inaccurate information is being sent out could cause mistrust of the system and the senders and people will stop using it.
Overall, I think using TextIt as an international development tool encourages more creativity, pushing professionals to think beyond traditional methods of interaction with their beneficiaries. Personally, I see myself finding a way to incorporate TextIt in my future projects and hopefully with that, I will become just a bit more tech savvy.
About Yael Shapira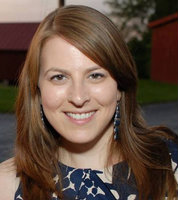 Yael Shapira works as Assistant Director of International Relations, Graduate School of Education and Human Development at George Washington University and recently completed TC105: Mobiles for International Development. Yael received an M.A. in International Education from GW in 2012, with an academic focus on providing access to education to marginalized populations in conflict and post-conflict settings, specifically in Sub-Saharan Africa. She has lived and worked in Ethiopia, India, Israel, Niger and Switzerland, where she planned and implemented educational projects for refugees, street children, children with disabilities and other populations. Yael received her Bachelor's in International Relations from Boston University in 2009. She was born and raised in Jerusalem, Israel.
Interested in learning more about TextIt and other mobile platforms in the context of global development? Join us for an online course on Mobiles for International Development.