Several months following the completion of the program, we sat down with Royce Escolar, Monitoring & Evaluation and Communications Officer and M&E Diploma Track graduate, to hear about how the program affected his professional development, ambitions, and projects.
Q: How did you find out about TechChange, and how did you become interested in taking courses?
I found out about TechChange by googling courses on Monitoring and Evaluation (M&E). I knew that I had to constantly learn new tools and approaches to enhance my skills in M&E given the fast-paced changes in the sector.  The use of technology to enhance M&E and how to best present and visualize M&E data were what attracted me most when I decided to take up TechChange's diploma track.
I previously had a chance to coordinate work with USAID when I was with AusAID.  It was good to know that USAID had and still continues to use TechChange to train their officers. It was an indicator for me that the courses offered by TechChange are of high quality and value to a key player in the international development sector.
Q: Have you taken online courses before? 
I surely did. I took my Masters in Evaluation from University of Melbourne via distance learning from 2012 to 2013.  This was a two-year part-time curriculum which allowed me to work full-time during the day and study after work hours.
Q: How would you compare the TechChange experience to other online course experiences? 
TechChange provided a much more fun and practical learning experience by creatively incorporating multi-media in the courses.  I really enjoyed how the topics and courses were presented using easy to understand language. TechChange also gave us lots of opportunities to practice and use the M&E tools and software, including insights on the context where the tools would be most relevant.  I also valued the sharing of experiences from guest resource persons via video and the sharing from other course participants.
Q: How have you been able to use what you learned at TechChange in your work?
Yes, I have used Canva.com a couple of times in creating infographics to better present the outcomes from capacity development initiatives funded by our program. A copy of one infographic I made is available in our program website at: http://aanzfta.asean.org/program-highlights/
I have also used what I learned on data visualization in developing a communication package to be presented to Economic Ministers from 12 countries party to a regional free trade agreement.  This package will be finalized and uploaded to the website (http://aanzfta.asean.org/) by end-September 2017.
By Dec 2017, I will revive my own blog on M&E (http://royceescolar.wixsite.com/evaluation) which has been inactive since early 2016 when I took a full-time job.  I plan to post some of these data visualization products in my blog and write articles reflecting on my experiences and the process in developing these data visualization products.
Q: Would you recommend the Technology for Monitoring and Evaluation Diploma to a friend?
I would definitely recommend TechChange and the Diploma track on technology for M&E!!!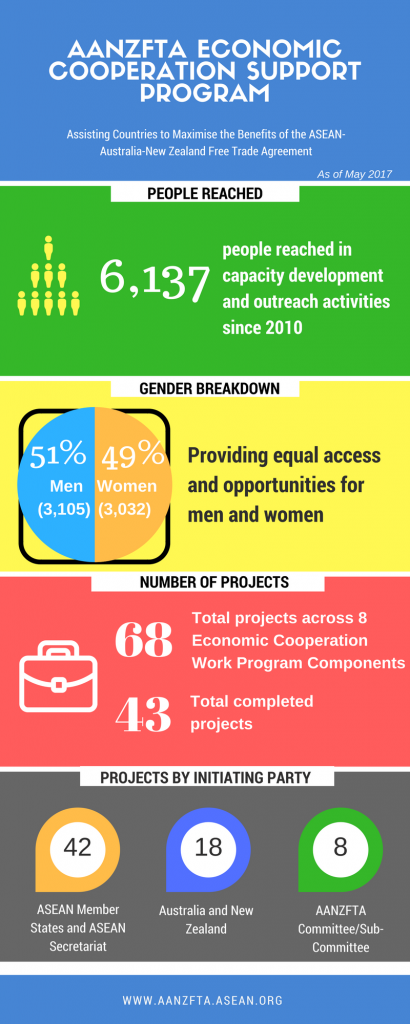 Above graphic by Royce for the AANZFTA-ASEAN program website
Featured image: ASEC – Community Relations Division