At TechChange, we can never get enough of mobile technology because it is constantly changing and reaching more people, even the most remote and low-income parts of the world. Many in the TechChange alumni community feel similarly as our Mobiles for International Development class remains to be our most popular online course to date with more than 400 participants from over 65 countries.
As Nick mentioned in the New York Times last year, mHealth, or mobiles for public health, is the most "evolved" of the mobile sectors. There are several large-scale mHealth campaigns that have focused primarily on maternal health and vaccination campaigns. As noted in the article, several companies such as Dimagi, ZMQ and Medic Mobile have made cellphones into tools for promoting health among rural health workers via open-source software.
These technology providers are not the only players in the mHealth industry. There are also mHealth program implementers, research institutions, initiatives, and policymakers/donors. Everytime we offer this mHealth course, we change our topics, tools and speakers due to the evolving nature of the field.
Here's the speaker line-up for Spring 2014 who will be joining us for this upcoming round of the course, which runs March 31 – April 25, 2014: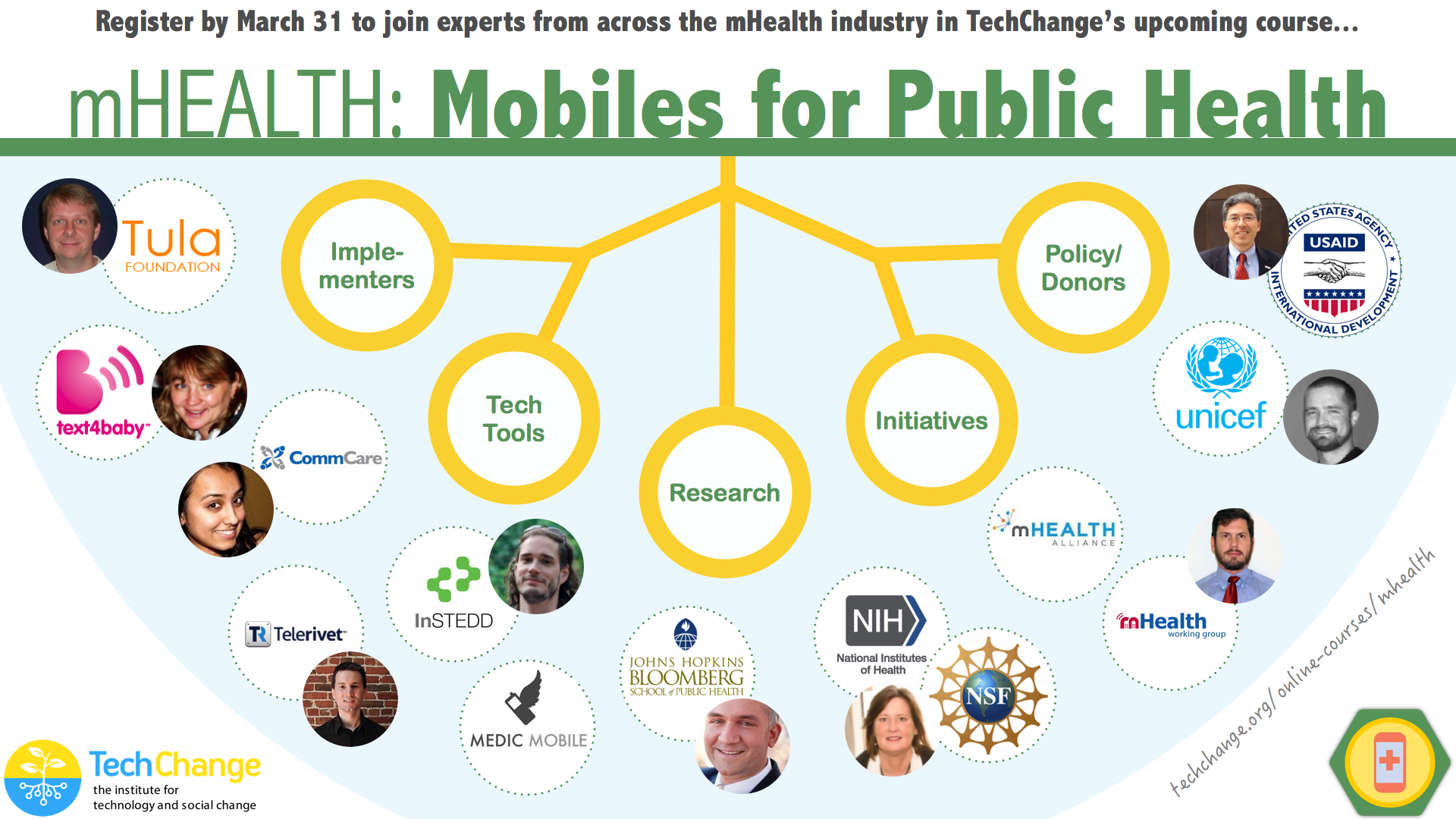 Week 1
Dr. Elena Dmitrieva will discuss the maternal health Text4Baby program in Russia.
Dr. Alain Lebrique representing the Johns Hopkins University Global mHealth Initiative, will explain the role of mHealth in achieving a continuum of care.
Week 2
Jesse Young, CTO of Telerivet, will demo their mobile messaging platform.
Nicolas di Tada will provide an overview of InSTEDD technology platforms.
Week 3
Ray Brunsting of the Tula Foundation will speak about their program in Guatemala.
Week 4
Mohini Bhavsar, a field manager with Dimagi, will discuss the Commcare platform.
Kelly Keisling, co-chair of the mHealth Working Group, will discuss groups and resources for individuals in the mHealth field.
We're very excited to have over 45 participants enrolled from more than 12 countries representing organizations such as Doctors Without Borders/Medecins Sans Frontieres (MSF), Adcem Healthcare Limited, Catholic Relief Services, Chevron, Fistula Care Plus, Howard University, International Medical Corps, Jhpiego, Kuwait University Medical School, Mercy Corps, MIT, National Alliance of State & Territorial AIDS Directors, Office of the U.S. Global AIDS Coordinator, U.S. Dept. of State, Ottawa Hospital Research Institute, Plan International Canada, RTI, Temple Street Children's University Hospital, University of Leeds, University of Michigan Health System, University of Notre Dame Masters of Global Health Program, University of South Carolina, University of Texas Medical Branch, VillageReach, and World Vision Malawi.
Don't miss out on this mHealth class! Enroll today!