Last Thursday, TechChange was proud to participate in the TechGirls program by inviting two young women from the Middle East to shadow our team during a work day. While we've always been committed to tech capacity building in the Middle East, it had been almost two years since we conducted a series of trainings in the West Bank, and we couldn't pass up a chance to invite future colleagues into our home and share our enthusiasm. According to the State Department, the TechGirls program:
"[P]rovides girls from the Middle East and North Africa with the knowledge and resources to pursue higher education and careers in technology. This program builds on the U.S. global commitment to advance the rights of women and girls around the world."
Nagham joined us from Nablus, Palestine. She is 16 and started using the computer at the age of 5; and she would like to study IT or Science. Nagham expects to improve her programming and game design skills. Sondos is from Zarqa, Jordan. She is 16 years old and has taken classes in robotics, Visual Basic, Oracle, Invention, Photoshop and HTML and SQL programming. Sondos is especially interested in pursuing technological interests that will aid the field of medicine.
With that in mind, we set up a variety of hands-on workstations that included:
Hands-On Coding and Electronics: Combining Art, Problem-solving, and Circuitry
Since both TechGirls were interested in both programming and hardware, we started off with our in-house code ninja, Michael Holachek. Michael is 18, an avid robotics enthusiast, and will be attending MIT in the Fall to study Electrical Engineering. Michael started off with a short discussion about the connection between art and electronics (including a TED talk on painting circuits), introduced some basic programming in C and Python, and then demoed a few cool circuits on the Arduino and Raspberry Pi. They then worked together to make a TechChange mood lamp that played the TechChange theme song and display the office temperature on a website. At the end of the session, Sondos and Nagham came up with several ideas for applying these new skills to new problems, including attaching a room thermometer to an Arduino board to trigger an alert if the room became too hot for a baby.
Making Graphic Elements: Generating and Animating TechGirls Avatars
With their new Arduino boards built, both Nagham and Sondos sat down with Pablo Leon and Rachel Roth to try illustrating themselves and then animating their avatars in After Effects. Rachel provided a sketch of our guests and then we loaded them on our custom tablets for illustration. Trying their hands with our stylus, they learned about creating layers, sorting into folders, using filters, etc.
After they finished creating avatars, Alon Askarov demonstrated how to use the Puppet tool to teach them how create short animations. Given that we were limited by time and that TechChange animations take time (see our blog post on this), these were kept to minimal facial expressions, but we still had fun doing it!
Designing a Four-Week Course: A Tour of mHealth
Since Sondos was interested in public health projects, we tried to show off what we'd been working on for our mHealth and maternal health initiatives. We opened up the most recent course that we had built with the UN Foundation on Mobile Phones for Public Health,but rather than the speakers or content, what seemed to be the most interesting was the 161 participants in the course from all around the world. We agree: It is pretty cool.
But on top of the novelty, we also chatted about how we believed connecting these students was a core part of online learning — not just transferring knowledge on technology, but building a community of practice. After all, technology is the easy part when it comes to mHealth.
Building Interactive Learning Experiences in Articulate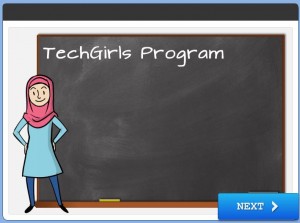 But a platform isn't enough for online learning. Catherine Shen discussed how to structure content for educational purposes. This meant walking through the current courses being designed for State Department, USAID, and the World Bank. Catherine used a current course from OTI Lebanon on advocacy for the TechGirls to see the mechanics of course design at work.
The TechGirls then created a short interactive presentation on their TechChange day, integrating their animated avatar with a survey that the girls used to tell us about their experience. Using a Likert scale, the girls gave their impressions of their shadow day.
The results were clear: Both of our participants strongly agreed that the job shadow day was fun and inspiring, in addition to being informative and interactive.
It was for us as well. Thanks to the TechGirls team for joining us!
This post was written with contributions from the entire TechChange team. Thanks specifically to Catherine Shen and Michael Holachek for contributions in the sections above.