By: Gabrielle Hayashi Santos, GDDF Brazil Ambassador
As the first-ever hybrid version of the Global Digital Development Forum (GDDF) unfolded, I had the privilege of leading a watch party in Brazil on the 27th of April as a GDDF Ambassador. The atmosphere during this exhilarating Brazil Watch Party was truly electric, filled with excitement and anticipation as we gathered to watch the various sessions of the forum. Our collective enthusiasm and eagerness to share perspectives and ideas transformed the watch party into a dynamic hub of discussions, uniting a diverse group of passionate individuals dedicated to digital development.
From Breakfast Table Chatter to Mind-Blowing Insights 🍳
Creating an engaging and meaningful experience was our secret recipe for success. We carefully crafted the timeline of the watch party, starting with a warm and formal welcome that set the stage for an immersive journey. Picture this: we kicked things off by gathering around the breakfast table, enjoying good food and even better company. We broke the ice with a networking session that sparked connections on a personal level. It was like speed dating, but instead of finding love, we found kindred spirits in the digital development realm. This laid the groundwork for a collaborative environment that permeated throughout the watch party.
Brace Yourself for Mind-Blowing Sessions 💡
The sessions we engaged in during this event were thought-provoking and inspiring, leaving a lasting impact on our community. One notable session that resonated deeply with us was Can We Trust AI? Painting the Picture of Possible Futures, featuring Phaedra Boinodiris, Global Leader for Trustworthy AI at IBM Consulting. Her insightful exploration of the ethical considerations and potential impacts of AI sparked engaging conversations among our watch party attendees.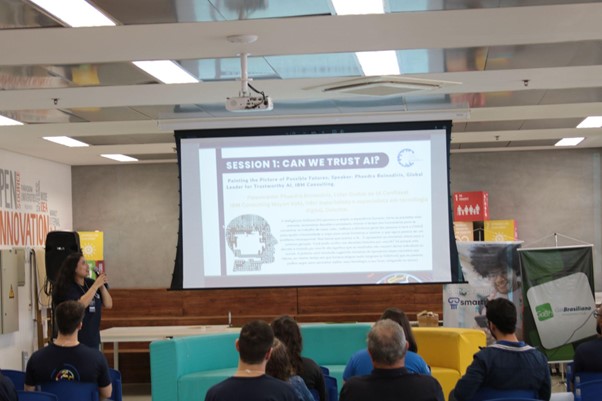 Another session that captivated our audience was Hiding in Plain Sight: Text Analytics Reveals Alignment to Positive Youth Development, led by Katherine Centore, Senior Specialist, Youth and Ashley Hill, Education Specialist, both from Chemonics International. Their exploration of how text analytics can uncover valuable insights for youth development initiatives ignited passionate discussions on the role of technology in empowering young people.
Delving into the session on The Power of Place and Open Payments: How Solutions for Financial Inclusion are Being Built within the Communities They Serve, we discovered innovative approaches to financial inclusion, emphasizing the importance of localized solutions that consider the unique needs of communities. The ensuing discussions shed light on the challenges and opportunities faced by individuals in Brazil, showcasing the potential of digital development to drive positive change in the financial sector.
Furthermore, we were honored to have guest speakers Bruna Vitória Ferreira Fernandes and Manoela Reis share their experiences and expertise on female representation in digital development. They highlighted the challenges faced by women in this field and provided valuable insights into creating a more inclusive and empowering environment. The subsequent Q&A session allowed us to dive deeper into the topic and generate ideas for meaningful change.
Small Groups, Big Connections! 🌍
Throughout the watch party, small group discussions played a pivotal role in fostering collaboration and knowledge exchange. Attendees were divided into smaller, intimate groups, offering them a platform to share their unique perspectives, ask questions, and collectively explore the session topics. These discussions were not only dynamic and insightful but also demonstrated the power of bringing diverse voices together.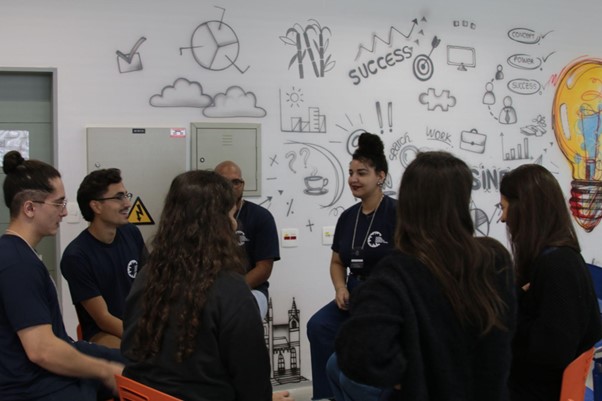 In addition to the rich discussions and connections made, the success of our watch party is evident in the statistics. A total of 43 individuals actively participated, engaging in three online sessions and two in-person sessions. These numbers reflect the enthusiasm and commitment of our community to be a part of the GDDF experience.
Unleashing Synergy through Power Partnerships 🤝
However, our success extended beyond mere participation numbers. We were able to forge meaningful partnerships that further strengthened our local digital development ecosystem. Notably, we partnered with the Global Shapers Hub Ribeirão Preto, bringing an added layer of expertise and engagement to our watch party. The Global Shapers community, a worldwide network of young change-makers, provided a fresh perspective and valuable insights into the digital development landscape.
Additionally, SUPERA Parque, a local innovation and technology park, graciously offered us a space to host the in-person sessions of our watch party. Their support created an environment that fostered collaboration and ideation, further amplifying the impact of our discussions. We are immensely grateful for their contribution to the success of the event.
Another significant partner that deserves special recognition is Skylar. They played a crucial role in making the watch party more inclusive and accessible to all participants. With their live translation services, language barriers were overcome, ensuring that everyone could fully engage in the watch party. Skylar's dedication to inclusivity truly made a difference and created a more welcoming environment for all attendees.
Our "aha" moments: Going Local, Networking, and Social Media 🤔
Bringing the local context into our conversations was a key realization during the watch party. While digital development is undoubtedly a global topic, it is crucial to acknowledge the nuances and challenges specific to local communities. By incorporating local voices and perspectives, we gained a deeper understanding of the issues at hand and the opportunities for growth. This localized approach ensured that our discussions were not only relevant but also impactful, addressing the unique needs and aspirations of the Brazilian digital development landscape.
Moreover, we discovered that networking played a significant role in enhancing the watch party experience. Despite the convenience of digital communication, there is something truly special about meeting in person. The watch party provided a unique opportunity for attendees to connect with individuals they may not have encountered otherwise. These connections fostered a sense of collaboration and sparked new ideas, ultimately strengthening our collective efforts in the digital development space.
The impact of the watch party extended beyond the event itself. Through social media networking, we were able to amplify the reach of the watch party and connect with individuals interested in participating in future events. The fact that my GDDF video garnered over 1000 views and prompted inquiries on how to get involved in the next Watch Parties is a testament to the power of social media in expanding our community and creating opportunities for engagement.
The Finale: A Watch Party That Ignited Change 🌟
In summary, the GDDF 2023 Brazil Watch Party was an inclusive and empowering experience that successfully brought together a diverse range of voices to engage in meaningful discussions on digital development topics, serving as a catalyst for fostering connections, sharing knowledge, and driving positive change in the Brazilian digital development landscape. Our journey continues as we look forward to future watch parties and the continued growth of our passionate community dedicated to making a difference in the world of digital development.