TechChange is proud to announce the release of our new platform localization manager! Online learning partners can update navigation, reporting, and student experience language as easily as updating a spreadsheet.
When we ran our first Arabic-language online course in S. Sudan in 2012, it was clear to us that the TechChange platform doesn't just need to be available in other languages: It needs to be flexible enough for a course facilitator to update on their own without any programming ability. And while the UI for our course content is as easy to update with any UTF-8 characters or language (just click on the "pencil" icon!), the platform itself depends on a wide range of integrations and top-level navigation that wasn't so easy to change on the fly.
For a while, TechChange solved this on a case-by-case basis for different partners, using existing language templates and then manually updating them as needed for specific requests. This wasn't just for courses in different languages, but also for different dialects of the same language or even language complexity for age ranges and literacy. But this method of bespoke platform tailoring was closer to "translation" than "localization," as facilitators needing to change a menu or notification needed to work with us rather than making the changes on the fly.
In response, TechChange built a layer on top of our platform to bring together all the different text entry spaces into a single "localization manager." In this manager, all the different possible fields are presented in a spreadsheet-style format, where anyone can simply add their translation or make a custom version of an existing one.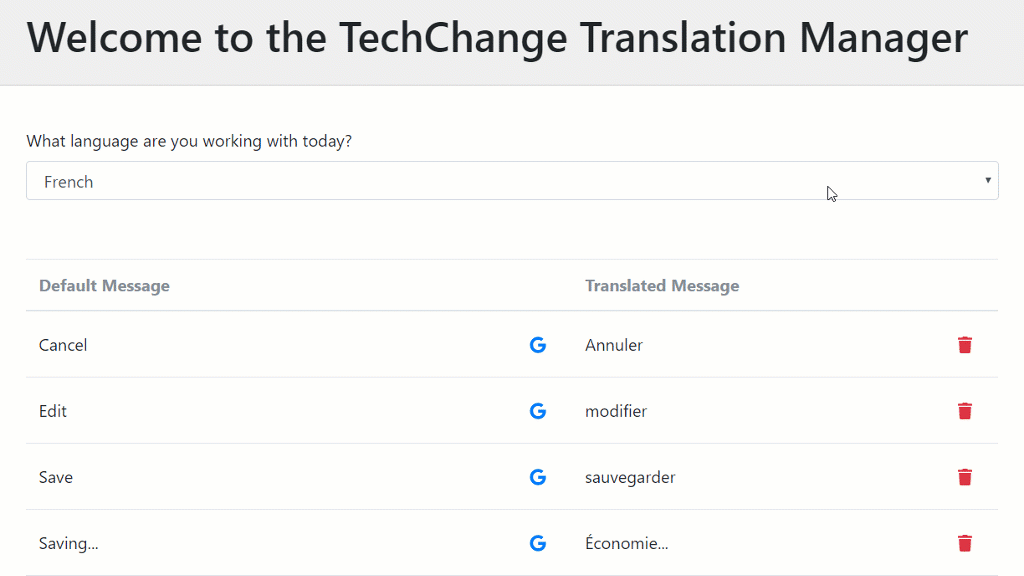 We also, by default, make custom translations available to other partners, so if you're looking for a particular region or dialect, you may already be in luck. And lastly, we understand that you might not always have the right word on hand and don't want to manually Google everything, so we included a button that makes a call to Google Translate and generates the suggested translation.
Since any TechChange partner can download all any or all of the translations as a JSON file, we're hoping to continue making our platform localization process flexible, fast, transparent, and collaborative. We're hoping our online learning partners will not only improve their own student engagement, but also to continue building out a shared vocabulary for effective international capacity building.