TechChange courses are designed with busy working professionals in mind. In any of our courses you will find yourself engaging with a vast network of participants from all corners of the globe who bring with them unique experiences and perspectives.
Today, we are excited to chat with Amy Noreuil, a Technology Advisor working at USAID's Office of Transition Initiatives. Amy has taken seven TechChange courses to date, both on-demand and facilitated. We caught-up with her to chat about her overall experience with TechChange as well as how our courses have impacted her professional life.
How did you find out about TechChange, and what caught your attention about TechChange courses, or got you interested in taking them?
I've been following TechChange for a number of years, but I think the first time I ever heard about it was through a TechChange-hosted happy hour where I ran into Chris Neu, Chief Operating Officer of TechChange. My curiosity was piqued because I always want to know about other initiatives going on when it comes to the use of technology for social good. I love going out and hearing about new projects that are under way to figure out how they could support our work or how we could support them. I'm a contextualist at heart – I believe the impact of technology can vary widely depending on the context – so I'm always interested in learning from the experience of others. I found the sense of community and diversity of students participating in TechChange courses to be one of the biggest assets. Everyone brings a unique perspective to the 'classroom.'
After completing your first course with TechChange, what made you decide to enroll in more?
The first course I took with TechChange was Mapping for Social Good. After that first class, what drew me in – and what has kept me coming back to TechChange – is the people. To me, virtual learning experiences are inherently more individual experiences, but TechChange courses provide the opportunity to connect with other students and take what started as a quick chat to a more nuanced conversation. The interaction can be customized to what you want and need – a quick exchange of resources (e.g. reports, toolkits, etc.) or a deeper discussion about intended and unintended impact. The user interface is easy to navigate and caters to different learning preferences, including visual learners like me. It provides a high-level survey of topics or applications, while also giving the user the option to dig into the technical details of specific tools.
You've now taken seven TechChange courses – how have they impacted your career as a technology advisor for USAID's Office of Transition Initiatives?
TechChange courses allow me to discover new tools as well as share experiences and insights with a wide range of people. I'm always looking for ways to break out of traditional silos.
The three major ways in which TechChange courses have impacted my work are:
Meeting people who are passionate about the intersection of technology, media & data
Finding tools and workshopping how they could support our partners and programs
Connecting with people who bring different perspectives, ideas and approaches
What is your advice for other students participating in TechChange courses? How can they get the most out of the experience?
Come into the course with an idea of what you want to learn. Set your intention early and be open to change. This learning objective will help you navigate course content and connect with students. The facilitators are very approachable and accessible. I also really encourage participants to meet up in-person and offline with students who live in the same geographic area. There's no replacing that face-to-face connection. Developing a community of practice and creating an environment that facilitates learning takes time and commitment. I'm excited to see the TechChange community continue to grow and change.
Interested in learning more about TechChange courses? Check out our online course catalog here! We will be launching new sessions of several of our most popular courses in the New Year! 
About Amy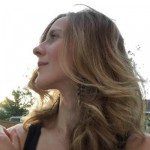 Amy is the Technology Advisor at USAID Office of Transition Initiatives (OTI) where she supports staff as they decide how to integrate the use of information and communication technologies into their programs. She loves supporting co-creation spaces, leading digital literacy efforts and working closely with local staff to provide an outside perspective on the design of small grants. OTI supports U.S. foreign policy objectives by helping local partners advance peace and democracy.