Featured image: water filling a metal pot, taken March 26, 2009
This article was written as part of the course "Mobiles for International Development" offered through George Washington University, taught by TechChange's CEO and founder Nick Martin.
Over 650 million people in the world do not have access to safe water. In many cities in India, the water supply is intermittent and water utility customers only receive main-line water supply once every 2-10 days for roughly 2 hours at a time. In many cases, the customers have no advance notice prior to the valve being shut off. For some, this could be a minor annoyance but for many, this interruption can prove life threatening. NextDrop, a mobile application that works through text messaging, seeks to address these critical gaps in water provision by using locally sourced data to improve water supply networks and access to information.
How Does NextDrop Work?
After paying a fee of between 5 to 10 rupees, the resident of a locality registers for the service by calling NextDrop. NextDrop will log the caller's location and identify his or her closest water valve. When an engineer next examines the valve, he can send an interactive voice response (IVR) message to NextDrop. The message is then forwarded to both the local residents and to the water utility, allowing residents real real-time updates regarding when they will be receiving water and for how long. The valve-man can also record where there may be a water supply cancelation on a particular day so that residents can prepare accordingly.
Although NextDrop had its fair share of challenges, such as working with existing private contractors and the government providers, and training poorly paid and undereducated valvemen, the product has been endorsed by the Gates Foundation, the Clinton Global Initiative, and Google. First launched in Bangalore, NextDrop now has about 70,000 users across India, with the majority in Hubli, Dharwad, Mysore and Bangalore, all of which now boast nearly 90% coverage.
The Implications of NextDrop on Development Efforts
NextDrop has significant implications for the development field. In a country that is still plagued by corruption, NextDrop signifies a move toward crowd-sourced service delivery, eliminating the typical asymmetric information that often defines utilities in India. With NextDrop, residents don't have to rely solely on the word of utility employees who may or may not have the community's best interests in mind. Residents are involved from the ground up, empowering and enabling them to force transparency in service delivery.
One limitation to these mobile-based services is access to cell phones for the poorest citizens in a community. While programs like NextDrop base their services on their consumers having cell phones, this does not necessarily alienate citizens without phones. In future applications of mobile-based programs, organizations can partner with mobile phone providers to try and source used phones from wealthier citizens, creating an integrated community of providers and beneficiaries, potentially fostering a spirit of inclusion.
As part of the Sustainable Development Goals (SDGs) passed during the U.N. General Assembly in 2015, Goal 6 specifically addresses the need to ensure clean water and adequate sanitation for everyone, everywhere. As individuals and organizations alike work to address this goal, innovations such as NextDrop will get us one step closer to equitable access to this life-sustaining resource.
Featured image credit: Wonderlane Creative Commons License 
About Sreya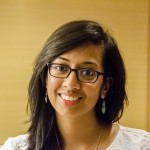 Sreya Panuganti has an MA in International Politics and Human Rights from City University London. She is currently pursuing her MA in International Development Studies at the George Washington University where she concentrates on water, sanitation and hygiene (WASH). Ms. Panuganti has a background in a variety of capacities in both the private and public sectors, leveraging skills in research, analysis and cross-cultural communication – most recently, with the U.S. Department of State and the NGO WaterAid. She continues to pursue opportunities that allow her to further her understanding of the development field.