By Samita Thapa and Kendra Keith
When we interviewed Nobel Peace Prize winner, Muhammad Yunus, at the 2013 mHealth Summit, he said that mobile phones are the "Aladdin's lamp for healthcare", a statement that still rings true today. Two years after that interview, we take a look at how digital health is beginning to expand beyond mobile phones. Mobile phones – especially smartphones – have been revolutionary in health care, especially in developing countries. With budding industries like add-ons to smartphones and wearable tech, the mHealth landscape is evolving.
Here are 5 digital health tools that extend beyond the mobile phone:
1. Pre cancer screening phone attachment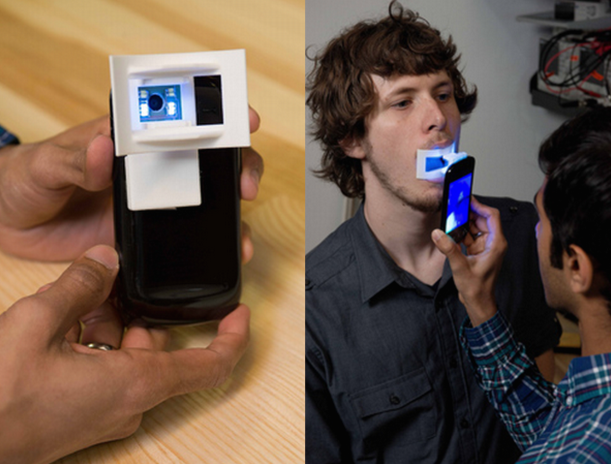 Photo source: Cellphone Beat
In areas of the world with high amounts of tobacco consumption and limited access to affordable dental care, oral cancer is a major concern. Oral cancer can be prevented with early detection and to equip rural health workers, the OScan team at Stanford university has developed a screening tool that mounts on a camera phone and conducts screenings for oral lesions. The data can then be transmitted to dentists and oral surgeons for assessment. OScan is in the process of conducting field tests with grants from Stanford, Vodafone Americas Foundation, and previously received funding from the mHealth Alliance.
2. STD testing smartphone attachment
Columbia University researchers have created a dongle (an attachment with a specific software) that can plug into Androids or iPhones and conduct tests for HIV and syphilis in about 15 minutes. The attachment costs $34 to manufacture, unlike the current method of conducting these tests in labs which can cost nearly $18,000. The dongle was recently tested in Rwanda on 96 patients and is still under development to improve its accuracy before doing a bigger trial run.
3. Ultrasound attachment for smartphones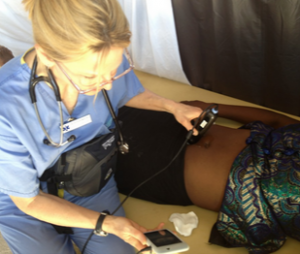 Photo source: MobiSante
Seeing how an infant is developing during pregnancy allows any dangers to mother and baby to be addressed at an early stage, and is important to reducing mortalities related to pregnancy and birth. Urban hospitals may be equipped to provide ultrasound services to pregnant women, but it is difficult to extend these services to rural communities. To make ultrasound imaging accessible to everyone, MobiSante, Inc, an imaging technology company has developed a "smartphone based ultrasound device that allows health workers to perform ultrasounds anywhere and share the images via secure Wi-Fi, cellular networks, or USB." With this attachment, the benefits of ultrasound services can be put in the hands of community health workers in even the most remote clinics.
4. Sensory patch for remote patient monitoring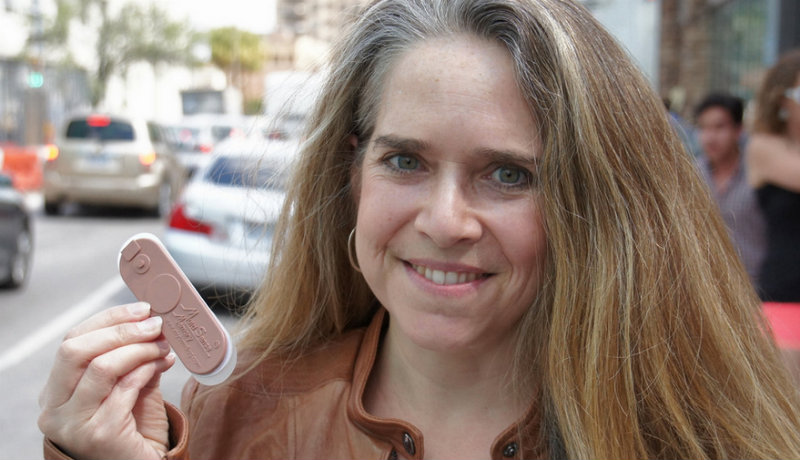 Photo source: Mashable
USAID recently launched the 'Grand Challenge' calling for innovative approaches in the fight against the ongoing Ebola crisis. One of the two innovations unveiled at SXSW '15 is the multisense memory patch or Smart Band-Aid. It's a flexible patch that takes a patient's baseline vitals and measures the changes from the baseline remotely. The vitals can be measured from outside the hot zone, or area containing active ebola cases, as the patch uses a USB cable to transmit data (the final version will use Bluetooth). With 7 – 10 hours of battery life, it costs $100 and is disposable. Wendy Taylor, Director of the USAID Center for Accelerating Innovation (pictured above), calls the smart band-aid a game changer!
5. Data Collection Necklace for Infant Vaccinations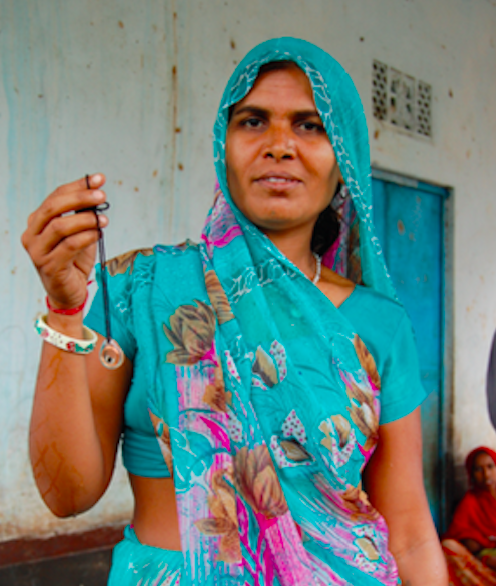 Photo source: Khushi Baby
Developed to address the challenge rural clinicians and parents face in documenting children's vaccination records, Khushi Baby stores children's medical history in a digital necklace. After winning the Thorne Prize for Social Innovation in Health in 2014, this Yale University classroom project has become an organization and has conducted a successful field test in the village of Mada Daag, India. When vaccinations are administered, the healthcare worker can scan the necklace with their Khushi Baby app on their smartphone to transfer vaccination data to the necklace. The data is also automatically uploaded to the cloud once the healthcare worker returns to the clinic. Parents then receive automatic voice calls reminding them about vaccination clinics and during their next visit, the healthcare worker simply scans the necklace of the baby to see which vaccines are due.
As amazing as mobile phones and these new attachments and wearables are in global health, these new technologies also raise important issues. For example, when it comes to wearables, battery life can be an issue. Erica Kochi, a senior advisor at UNICEF noted that internet connectivity has beat electricity to many rural parts of the world, so access to electricity may still be minimal or non-existent in parts of the world where wearable tech can help. While finding better ways to collect more data is vital in healthcare, data privacy and security is increasingly becoming an important concern as we are realizing that there is too much data to manage.
The overall issue of practicality is another concern. Are these innovative solutions practical, cost-effective, and cost-saving? These are the conversations we will be having in our upcoming mHealth online course. We will be discussing new mHealth approaches like the ones mentioned in this post among others. We have a great group enrolled already and will be hearing from guest experts from organizations like Medic Mobile, National Institutes of Health (NIH), D-Tree International, PATH, and more!