In honor of World AIDS Day 2014, we celebrate several TechChange alumni who are heroes in the front lines of fighting HIV and AIDS across the world. From their communities in San Francisco, Vietnam, Malawi, South Africa, and Zambia, these extraordinary individuals are using mHealth technology, online training for HIV preventing, and more to save lives with HIV awareness campaigns through online trainings and SMS campaigns, Android mobile apps for accurately prescribing antiretroviral medication, and more. Check out the top five ways TechChange alumni are using technology to fight HIV.
1. Encouraging HIV testing and care in Vietnam with mHealth gamification programs
Caroline Francis and her team across FHI 360 Vietnam have launched mHealth pilot programs to encourage HIV testing and care maintenance through gamification with mobile phones. In their programs in Hanoi and Ho Chi Minh City, mHealth is a key strategy for FHI 360 "to incentivize health-seeking actions, increase the timeliness of data collection, improve patient communications, and document system-client interactions. MHealth can also facilitate workforce development through task shifting, performance support, and human resources management."
Check out this video on their "Fansipan Challenge" mHealth pilot program here.
2. Promoting HIV support group and health management classes with SMS reminders
In her blog post on "mHealth: Healthcare Reaching Remote Places with Mobile Phones and SMS", Reverend Neelley Hicks describes the success of a community health worker's use of SMS messages to remind HIV+ members of a community in Malawi to attend support group and HIV health management classes. The significance of reaching these program beneficiaries was not small, as "community health workers often must walk miles to find someone only to learn they are away. But the mobile phones stay with the person – making them much easier to reach."
3. Scaling HIV Prevention in California via eLearning
A&PI (Asian and Pacific Islander) Wellness Center, a San Francisco-based organization with that started to fight the HIV/AIDS crisis in A&PI communities beginning in the late 1980s, collaborated with Project Inform and TechChange to develop the California Statewide Training and Education Program (CSTEP), a curriculum that sets the standard in HIV treatment and technically and culturally competent training for clinical and non-clinical providers working in the HIV field. The A&PI Wellness Center works to address the health needs of marginalized and vulnerable groups, regardless of race, ethnicity, gender identity, sexual orientation, or immigration status.
To register for these free online courses on HIV prevention training, please click here.
4. Correctly prescribing HIV antiretrovirals (AVR) drugs with an Android smartphone mobile app in South Africa
To help clinicians to correctly prescribe antiretrovirals, Dr. Musaed Abrahams, an alumnus of our mHealth – Mobile Phones for Public Health online course, has launched a mobile app for managing antriretroviral treatment (ARV) medication in South Africa.
The Aviro HIV mobile app acts as a virtual mentor for clinicians to easily consult for proper ARV (Anti-retroviral) initiation and treatment during the patient consult. Designed for Android and based on the current South African guidelines, it provides real-time, immediate feedback and guidance for the clinician, so that excellent and reliable care can be delivered to every patient. Following a care checklist, it gives clinical prompts aiming to educate and raise the standard of patient care.
Download the Aviro Android app on the Google Play store here.
5. Advocating for reproductive health education in Zambia with SMS
After taking several online courses with TechChange, Priscilla Chomba-Kinywa created a SMS solution called U-Report to promote sex education to prevent HIV in Zambia among youth. She incorporated the feedback from Zambian youth in the process of building out this campaign and program. The first year of the program's pilot in 2 provinces had 50,000 young people voluntarily sign up and engage the 24/7 trained counselors by asking them questions on HIV, sexually transmitted infections, and other reproductive health issues.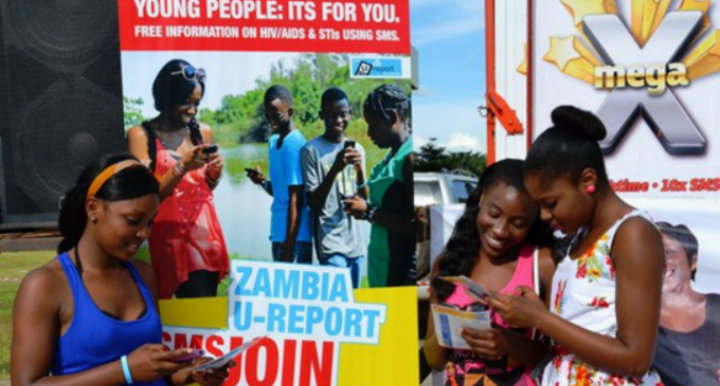 Want to learn how you can use technology to address challenges such as HIV and other global challenges? Enroll in one of our online courses here and get $50 off any course with the coupon code, ENDAIDS2014, before December 5, 2014.