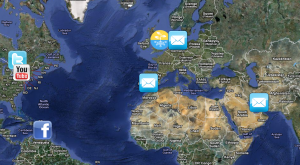 We're excited to announce that we're partnering with the U.S. Institute of Peace (USIP) for this Friday's event (9/16) on Sifting Fact from Fiction: The Role of Social Media in Conflict. Held in Washington, DC, this event will examine the power of social media for change by bringing together experts, activists, and policy-makers to look at cutting-edge tech for conflict management and peacebuilding.
Events of global importance should include a global audience. To complement the event's live webcast, we're spending this week aggregating questions from you, the online audience, in Tweets, anonymous emails, and YouTube videos. We're also collecting questions from the 46 students from 26 countries in our online class Tech Tools for Emergency Management, and we want to hear from you! Once we get your input, we'll put it on our live Participation Map, which will be featured during the event.
Ask NPR's Andy Carvin about tweeting revolutions in the Middle East, the State Department's Alec Ross about the new front on US Digital Diplomacy, the EFF's Jillian York how Egyptian and Tunisian youth hacked the Arab Spring. That's right, we're crowdsourcing questions for Clay Shirky of Here Comes Everybody, while keeping it short enough for Brian Eoff of Bit.Ly. John Kelly of Morningside Analytics will map out the online discussion, and social media experts Marc Lynch (@abuaardvark) and Sultan al-Qassemi (@SultanAlQassemi) will reality check it.
What are you waiting for? There are four easy ways to participate:
Email your question and location to chris@techchange.org with "Question" as the subject. Please note if you want your question to be anonymous.
Tweet your question and location with #USIPBlogs and we'll post it right away. (Sample: Question from #location for @panelist. #USIPBlogs)
Post it in the comments section below
Film a video question and upload it to YouTube. Send us the link via either of the two methods listed above.
Looking forward to hearing from you!
– The TechChange Team