In a city "famous for its snarled traffic and infamous for its unruly drivers," Facebook is aiding the authorities in New Delhi—"5,000 traffic officers in this city of 12 million people"—in keeping a digital eye on reckless road users. Citizen monitoring and the new Facebook page Delhi Traffic Police is holding drivers and cyclists accountable for their committed traffic violations. This digital venture partners Satyendra Garg—Joint Commissioner of Delhi Traffic Police—and his team with "Facebook to open a two-way channel for instant communication with road-users."
The Delhi Traffic Police Facebook page was inspired by the need to more closely monitor traffic, in the onset of the Commonwealth Games of 2010, being held in Delhi from October 3rd – 14th. On Twitter, @dtptraffic recognized first and foremost that "management of Traffic in Delhi, during Commonwealth Games, will be a big challenge as well as a great opportunity."
​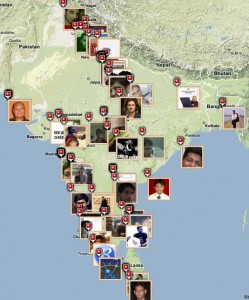 Within three days of its creation, Delhi Traffic Police had 1,000 fans. On August 1st, the page had 17,000 fans, which grew by an additional 1,000 by August 17th. And today—growing by the minute—the page has 25,200+ fans and 5,700+ tagged photos.
It works like this: when a driver sees someone breaking the traffic laws (running a red light, blocking a crosswalk, using a cell phone while driving, motorcycle riding without a helmet, etc), they take a photo of the violation in progress and upload it to the Delhi Traffic Police's Facebook page. Then police review the photo and act accordingly by tracking down violators and writing tickets.
From cycle-rickshaws and tailgating motorcycles, to traffic jams and obstructions. Sifting through the thousands of uploaded photos on the Delhi Traffic Police page, one can find passengers without helmets or seatbelts, broken taillights, handwritten number plates, unruly items transported on motorbikes, a car parked beside a 'No Parking, No Waiting' sign, motorcyclists blocking pedestrian 'zebra crossings,' a bus stuck in a flooded street, tinted windows, and more. Photos come with detailed information indicating when and where the violations took place, with 'Likes' and comments to follow.
It's not just Delhi's everyday drivers who are being caught by Facebook—it's the officers too—including the "occupants of 29 police vehicles and an additional 19 private vehicles driven by policemen." The photos prove that Delhi's traffic monitoring 'netizens'—drivers, cyclists and passers-by— are indeed doing their job well. According to Delhi's Special Traffic Police Commissioner Ajay Chadha, "the netizens have been helpful in coming up with new ideas to man the traffic system efficiently."
Get involved—via Facebook and Twitter—and get a sneak-peek into Delhi's traffic culture and how social media is aiding in responsible community interaction. Well wishes ahead for this new initiative which—in addition to encouraging "public involvement in traffic management"—proves how social media is being used as a tool for implementing peaceful traffic order on the congested streets of Delhi, by virtue of making civil society an active online society.
But for those participating in the digital traffic monitoring—be careful—because as Garg says, "using a cellphone camera while driving "in itself is a violation.'"
​