Min joined the TechChange team as an Instructional Design fellow! She is a recent graduate from Swarthmore College, where she studied Economics, Sociology/Anthropology, & Educational Studies.
We sat down with Min to learn more about her background and experience. Welcome to the team!
Q: So… how's your first week at TechChange going?
It's been fantastic so far! I've gotten a crash course in Articulate Storyline 360, worked on a course about open source startups for UNICEF, had the honor of choosing the office's ice cream flavors, and learned how to make french press coffee from the many caffeine aficionados that populate this office.
Q: Could you share a bit about your background before joining the TechChange team?
As a student, I focused primarily on public education policy and higher ed/admissions. I wrote my senior thesis on the institutional constraints that prevent politically progressive AP Economics teachers in public high schools from making their classrooms into sites of resistance against neoliberal policies and curricula. I was also occasionally a teacher myself, in a variety of settings — from the overcrowded, bilingual classrooms in North Philadelphia to the one-on-one conversations in my weekly Introduction to Economics clinics. I learned a lot about how people learn differently based on context, environment, and presentation, among other factors too often neglected by progressive education scholars.
Q: What originally interested you in joining TechChange?
I had heard of TechChange originally as a sophomore in college when my friend Isabel Knight told me she was going to go be an Instructional Designer in D.C. I had no idea what that meant, but it piqued my interest when she described the fun, welcoming environment at the office. As a junior, I was studying at the University of Edinburgh, taking two highly relevant courses called The Internet & Society and Technology in Society. We applied various critical technology studies theories to case studies such as how a bridge was designed to keep low-income people from visiting a certain beach, the moral implications inherent in the nuclear bomb, and the sexist roots of headphones. My biggest takeaway was that in order to achieve any social change or disruption, technologies have to be designed intentionally to do so — but it is possible, and I wanted to work with the technologies that achieve this difficult but worthy goal. As I read that semester about the technologies and organizations that TechChange works with and thought about how it sits at the intersection of education, technology, and social change, I knew I had to apply for the Instructional Design Fellowship.
Q: How does Instructional Design fit into your interests?
Creating beautiful, intuitive, and engaging courses for international development-focused organizations like UNICEF and USAID allows me to pull from all of my interests. The content is usually related to topics I studied as an economics and sociology student while the curriculum design requires me to apply what I learned as an educational studies student. The design aspect appeals to me because I care a lot about making the user experience feel as natural as possible. That the courses are all multimedia (including videos, sound design, animation, and sometimes mini-games) is the whipped cream on top because I love being able to exercise my creative side.
Q: What is one thing that you'd love to learn or do this summer?
I adore that TechChange, as a small company, doesn't require its employees to overspecialize. I can wear multiple hats — graphic designer, curriculum developer, copywriter — all within the umbrella of Instructional Designer, but I can also branch out and work with other teams. Just last week I was able to help the Creative team with a video shoot, which was very exciting because film production is something I know I want to be able to integrate into my professional life. You can check out my photography on Instagram here!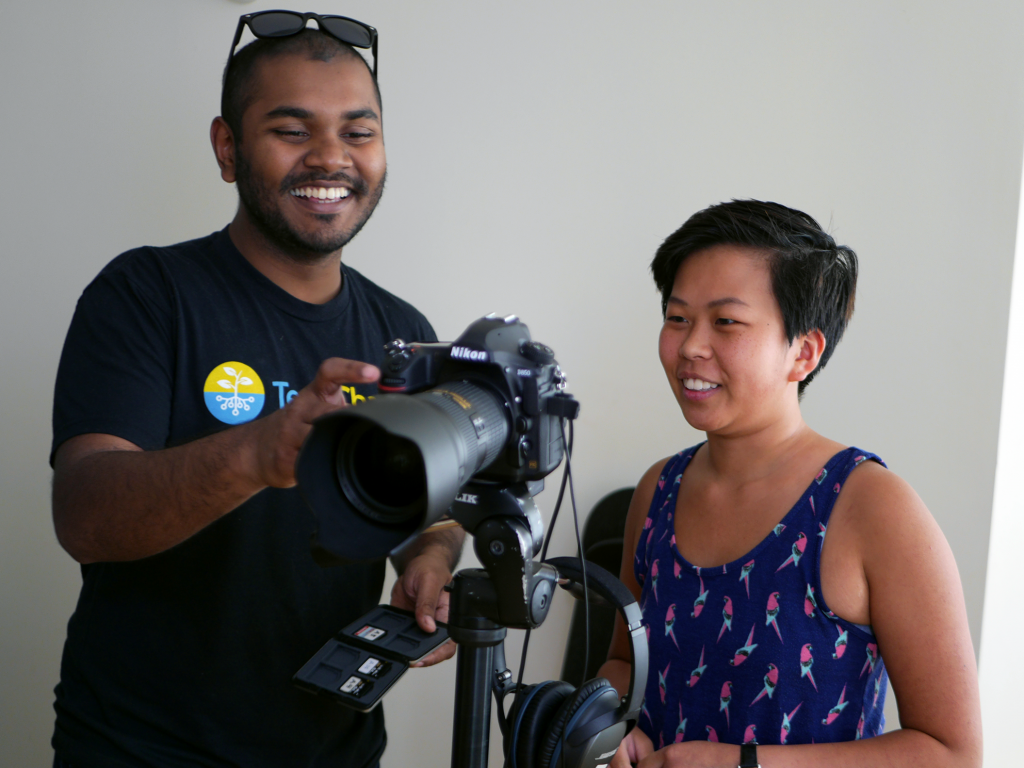 Min helping Yohan, our Creative Director, with a video shoot.
Q: Lastly, what's something that not a lot of people know about you?
When I was 11, my children's choir was conducted by Marin Alsop for a performance and subsequent recording of Mass by Leonard Bernstein. That year, the producer of the recording won the Grammy for Producer of the Year so, in a way, I own like 0.01% of a Grammy.