Nick Martin, the founder and CEO of TechChange and Swarthmore alumnus recently had the exciting opportunity to MC the 2017 SwatTank competition at Swarthmore College! SwatTank is a business competition much like the popular show Shark Tank in which groups of students compete for startup funding from a group of seasoned business leaders as judges. Nick was in charge of keeping the energy of the room up, taking breaks to talk to the person next to you about the presentations, engaging in counting improv games, and asking the contestants about the most difficult parts of their design process while the judges left the room to deliberate.
This year, there were four groups competing for the $3,000 First Place prize: New Dae Farms, Collab, Switchboard, and Zing. Each group of 2-3 students had to pitch their idea in 4 minutes or less, take questions from the judges and the audience about their idea, create a business plan, and provide an informational poster. Each group is assigned an alumni mentor who works in the field each new business is trying to break into, to fill knowledge gaps and provide insight. Both this year and last year, Nick mentored a team.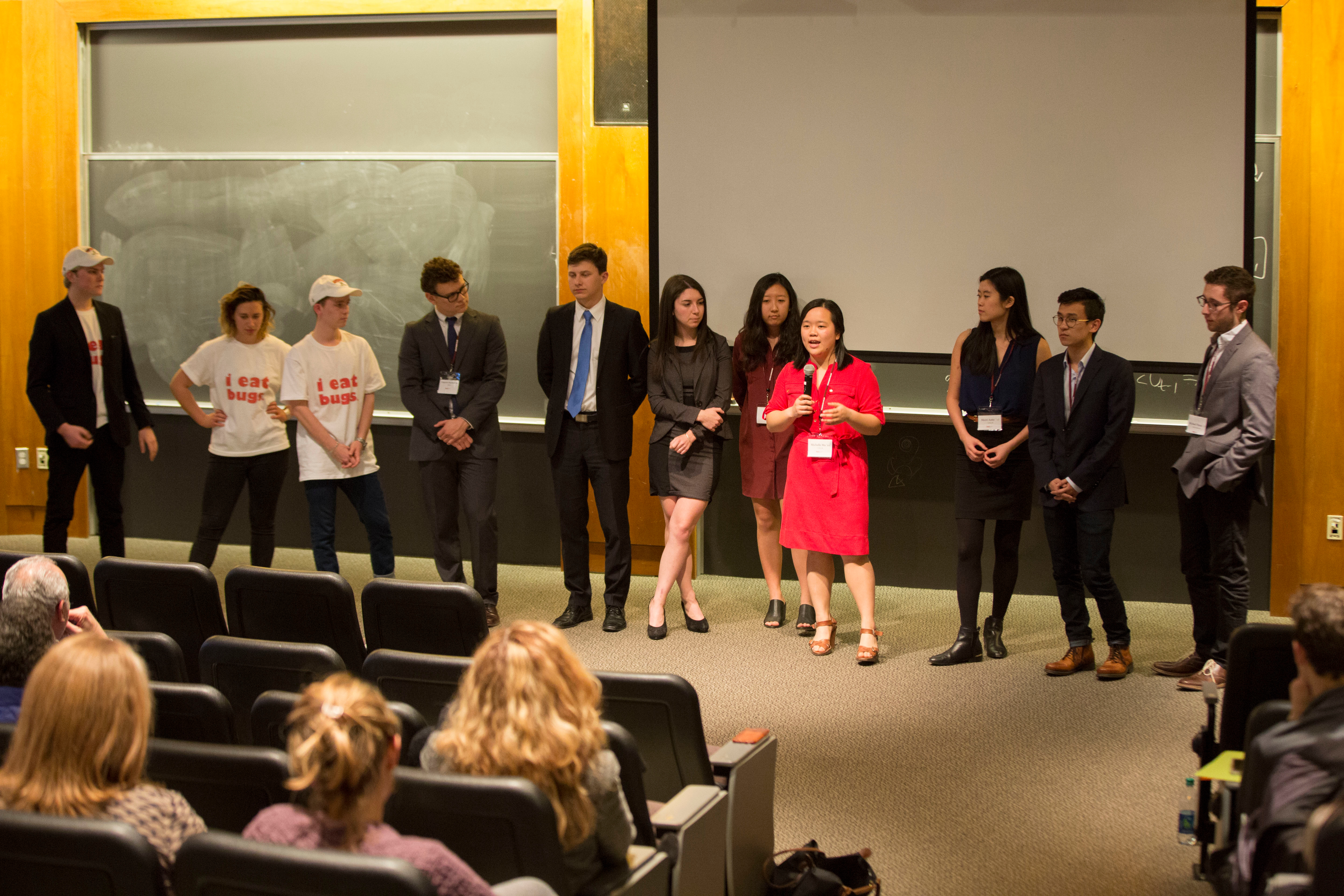 The winner of SwatTank, with a high-impact proposal and an impressive amount of preparation, was Switchboard. Switchboard is a project which co-founders Michael Piazza and Eric Wang have been working on for two years, though the project has gone through multiple iterations. The app was originally a text messaging service, where users could text the Switchboard number and they would be paired with another anonymous user using a series of 'tags' to enter a 'room.' For example, if you were interested in finding somebody else in your linguistics class to help you out with your homework, you could add #ling001 to the end of your text message to Switchboard.
Their next iteration of Switchboard was a mobile app. Surprisingly, this tactic was not as successful for them because as it turns out, the average smartphone owner downloads 0 apps a month on average, and they had trouble getting users to download their app. For comparison, users sent 6,000 messages in the iOS app over the course of 2 months compared to 17,000 messages sent in one week during the first iteration when the platform was SMS-based. So in this round, they returned to the texting model and over the 6 days since their most recent launch, they have had 65 users who have sent over 1,600 messages.
The judges also asked about a potential business model: how were they going to make Switchboard profitable? They decided to go with a freemium model, in which the vast majority of users were able to use the service for free, whereas members who paid $5 would get access to exclusive features and content. Ultimately, they said they were not concerned with making this a super profitable business; their strategy was to keep the service as inexpensive as possible until they could get a larger company to buy them up.
Currently, their product is only available to current Swarthmore students, where graduating seniors would need to get kicked off the platform as soon as the Swarthmore emails that they used to register for Switchboard expired. Down the road, they plan to allow Swarthmore alumni to sign up for an account but those kinds of add-ons are still far in the future.
The second place winner, New Dae Farms, had one of the more zany ideas of the bunch: cricket farming. They proposed using shipping crates to grow and harvest over 3.5 million crickets on Swarthmore and Haverford college campuses, selling them to local restaurants and using them in the dining halls. Though there are other cricket farms, their value proposition was to use these crickets for R&D, since it is difficult for most farms to do controlled experiments, whereas college campuses typically have well-resourced biology labs suited for controlled testing.
The third place winner, Collab, came up with an idea to try to bring more women with children into the workforce: partner with coworking spaces like WeWork to provide daycare services at all of the WeWork locations. Modelled after spaces like CoHatchery in NYC, some of the main challenges were finding competent childcare professionals to keep up with the demand for childcare, as well as coordinating with pre-existing coworking organizations.
In fourth place came Zing, an all-freshman team with the idea to bring solar-powered cell phone charging stations to campuses.They chose to lease these charging stations to colleges to mitigate the upfront cost of the charging stations, with a lease-to-own plan for colleges who chose to buy the charging stations in the future.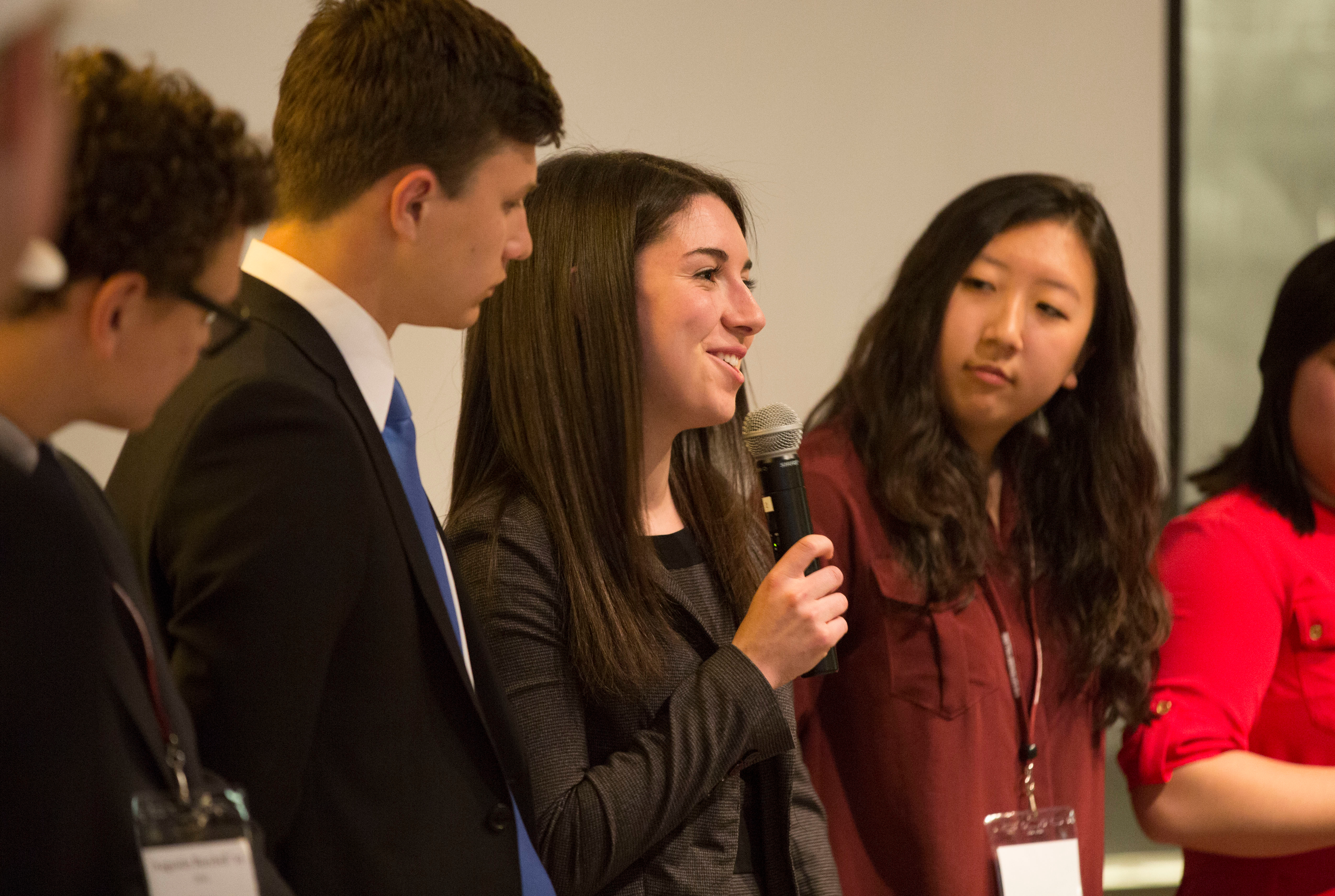 SwatTank has been part of a larger effort at Swarthmore to promote opportunities for student entrepreneurship. Hosted by the Center for Innovation and Leadership, there have been more efforts to go on trips to Silicon Valley, as well as business and entreprenurial workshops called Innovation Incubators.
Just last year, Swarthmore Visiting Professor Denise Crossan began offering a new social entrepreneurship class through the Lang Center for Civic and Social Responsibility called Social Entrepreneurship in Principle and Practice. Not every student who participated in this year's SwatTank took the class, but many who did felt as if the class gave them a leg up in thinking entrepreneurially.
TechChange looks forward to supporting Swarthmore's rising entrepreneurs in the future and helping merge the ideas of the liberal arts and social entrepreneurship by thinking intentionally about how to innovate in new markets and solve problems creatively. Understanding how to merge passion and profit from a liberal arts perspective is only going to become more and more important in our increasingly technological world where new challenges crop up every day.
To read more about Switchboard, you can do so here. You can also read more about SwatTank here.
Photos courtesy of Laurence Kesterson.