In partnership with the World Resources Institute, TechChange has built a seven-module online course for the Compact of Mayors, a global coalition of mayors and city leaders committed to sustainable local climate action. By providing a standard, public method of reporting emissions and efforts, the Compact aims to capture and accelerate impact. To announce the course, TechChange produced an animation that was presented at the 2015 United Nations Climate Change Conference in Paris.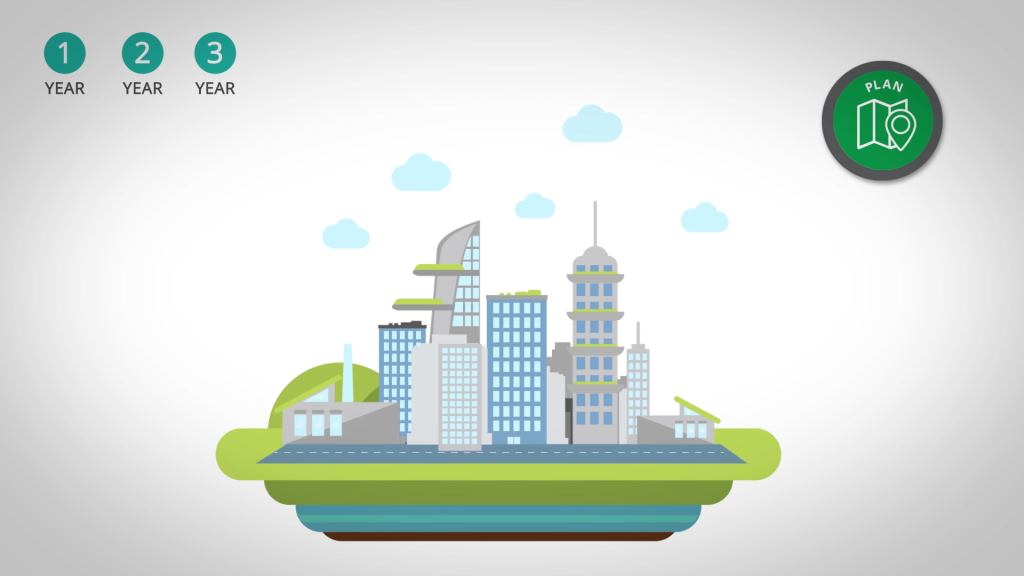 The animation shown in Paris was a compilation of scenes from seven other animations, each developed to capture the key takeaways from one of the seven modules. Designed for a broad audience of mayors, city sustainability officers, and environmental policy advisors from all over the globe, each animation provides a quick overview of a module for learners seeking a basic understanding of the Compact of Mayors.
Diving deeper with interactive content
For those interested in a more in-depth understanding, TechChange developed interactive exercises, infographics, maps, graphs, and resources for each of the seven modules. Coupled with videos, avatars, backgrounds, and narration, these ten to thirty minute "deep dive" modules walk the learner through what the Compact is, how a city can become Compact-compliant, and why a city would benefit from becoming Compact-compliant.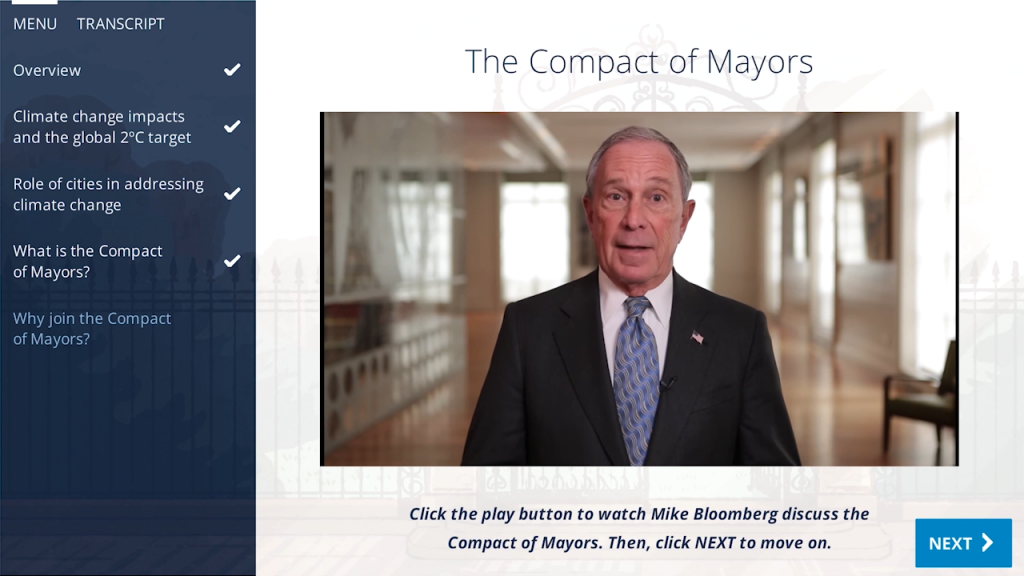 In total, the course takes 3 hours to complete, or longer if the learner chooses to explore the numerous resources provided throughout. In order to retain learner engagement with course material, TechChange employed three main instructional design strategies: epic learning goals, flexible learning paths, and frequent opportunities to apply material through practice exercises with instant feedback.
1. Epic learning goals
In order to visually reflect the course's epic goal of empowering city leaders to make a difference in the climate trajectory of their city, TechChange designed each module to take place in a specific part of a virtual city. As the learner progresses through the course, the city becomes visibly improved; each module's location becoming more vibrant while trees, flowers, and wildlife begin to appear. The visibly improving virtual city, displayed at the beginning and end of each module, provides a subtle reminder to learners that their efforts to complete each module reflect a much larger local effort to improve real cities on a global scale.
2. Flexible learning paths
Providing nonlinear learning paths allows learners to structure their own learning experience. For example, to learn more about the role of cities in combatting climate change, the course invites the learner to click parts of a city scene. Every time the learner completes a section, the learner is invited to pick the next section that piques their interest.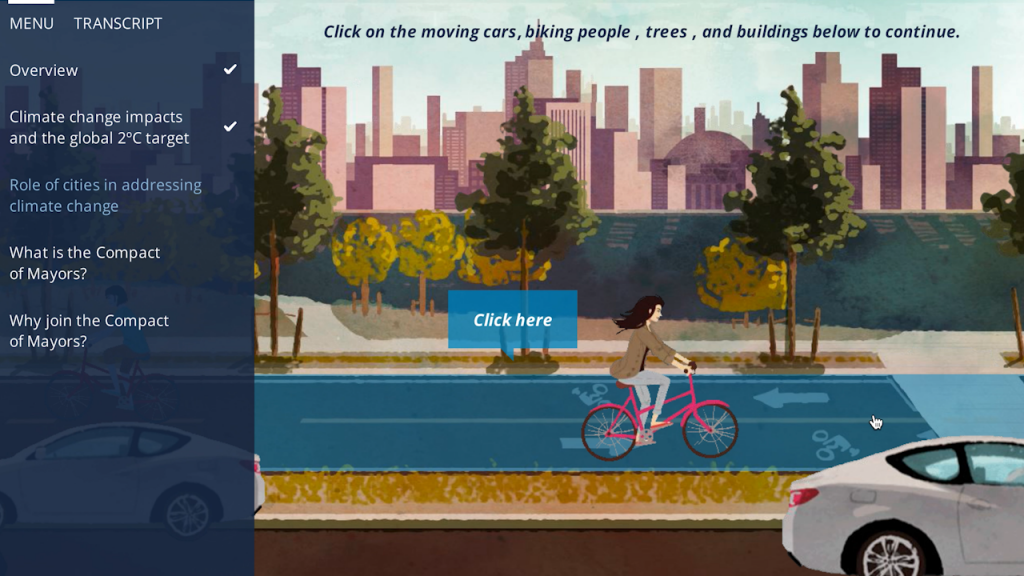 3. Real-time feedback
In addition to emphasizing the epic nature of the learning goals and empowering learners to customize their learning paths, the course aims to capture learner attention by providing ample opportunities for learners to apply material through practice exercises with real-time feedback. In a knowledge assessment included in Module 5, the learner receives a certain number of points based on how many attempts it takes them to get the correct answer and how many options the question contained. A scoring meter provides a visualization of the learner's cumulative score. Coupled with some simple sound effects, it's a basic but effective mechanism that results in the learner's effort directly impacting their visual and auditory experience, and hopefully motivating them to try again or keep going.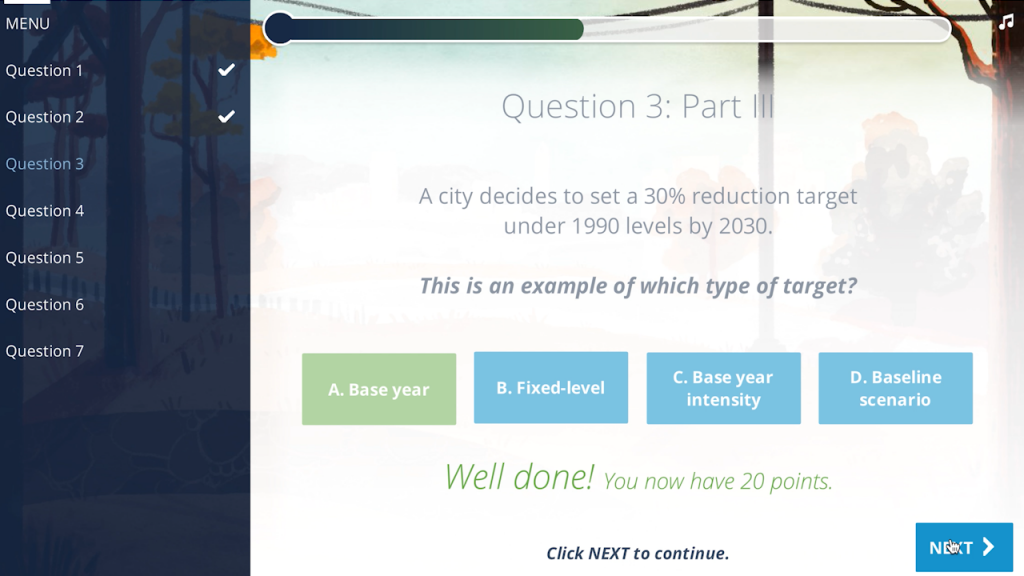 Putting strategy to the test
In order to test the effectiveness of these strategies in the Compact of Mayors course, TechChange will be tracking and analyzing virtually every click a learner makes while taking this course. Do learners actually go through content in unique ways, or do most follow suggested learning paths? Do learners who failed several times during practice exercises persevere or is the feedback mechanism not enough to inspire completion? Being able to answer those types of questions will not only help TechChange improve this course over time but also inform how TechChange can most effectively design new courses in other topic areas in the future. To try the course yourself, register for an account at compactofmayors.course.tc/learn.