Image Source: Global Forest Watch
Open data has been a popular topic in international development recently, but what about the evaluation of open data programs? We are excited to welcome Dow Maneerattana from World Resources Institute (WRI) to our upcoming Tech for M&E online course to talk about evaluations of open data movements. Before her guest expert session next week in our course, we asked her for a little sneak peek:
What does World Resources Institute do?
World Resources Institute is a global research organization that turns big ideas into action! We focus on six critical issues at the nexus of environment and development: food, forest, water, climate, energy, and cities and transport.
What is your role at WRI?
I work on one of the critical issues of our time: deforestation. We have very big ideas about how to reduce deforestation, and I have a unique opportunity to build monitoring and evaluation (M&E) processes and systems from the ground up to ensure that we are capturing results and impact, and adapt our strategy and approach over time. I am involved with WRI's M&E advocacy, trainings on basic functions of M&E at all stages of a project, and finding strategic opportunities to learn from our work through evaluations.
What will you be speaking about in the course?
I'm excited to share my passion for evaluations (and geek out) with the course participants. I will talk about emerging trends and impacts of open data movements in developing countries and discuss our initiative evaluation design, which includes Global Forest Watch, an interactive forest monitoring and alert system and open data portal. Global Forest Watch leverages remote sensing, big data and algorithms to produce the timeliest and most precise information about the status of forest, including near real time suspected locations of recent tree cover loss.
What excites you the most about Tech for M&E?
I am most excited about the opportunity to shift the dialogue on monitoring and evaluation, which often gets a bad reputation for how it is full of confusing terminology or synonymous with donor requirements. Once you move past the superficial fear, monitoring and evaluation tools and processes are common sense solutions; and when they are coupled with appropriate technology can create one powerful, time-saving machine. It's been fascinating to see many ways smart techies create and apply tech for M&E solutions for international development. For me, I enjoy connecting the dots and putting powerful tools in the hands of people with the least power.
We are looking forward to Dow's session in our Tech for M&E online course that begins on Monday, April 20. Want to engage in conversations about the use of tech in M&E with guest experts like Dow? Join us in our upcoming online course on Technology for Monitoring and Evaluation.
About Dow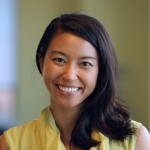 Dow is a monitoring and evaluation manager at the World Resources Institute, a research organization that works on issues at the intersection of environment and development. She loves to empower teams to systematically capture success stories as well as learn from evaluations and often draws from her international experience as a community organizer and human and labor rights activist. Dow has worked on impact and performance evaluations of governance projects at the National Democratic Institute and on rule of law, human and labor rights advocacy, and livelihoods projects with Pact and Human Rights and Development Foundation. In her free time, you can find her playing tennis, glamping/camping, or mentoring an 8th grader through Asian American Lead.