Earlier this summer, I was selected to participate in the Ariane de Rothschild Fellowship program. The fellowship brings together 25 leaders from North America and Europe to Cambridge University for two weeks to learn about social entrepreneurship, cross-cultural dialogue, and the humanities.
Having left graduate school at the University for Peace eight years ago, it has been a great opportunity to go "back to school" without having to take off a substantial amount of time; two weeks is just enough.
Here are some reflections on the experience, one week into the fellowship:
The interdisciplinary nature of the program is truly unique – it combines lectures and interactive sessions from some of the top professors in the business school and humanities department and includes a cross-cultural dialogue component.

The other fellows are truly amazing and inspiring people who come from all kinds of backgrounds. One started a social business that builds empathy through toys, another is working to improve nutrition in nursery schools across Europe. Read about all the fellows here.

As part of business training component of the program, we've been assigned mentors from the Cambridge business school who are extremely sharp and work with us individually to grow our enterprises while keeping our social mission central. The lectures focus on topics like Financial Sustainability from Mixed Income Streams, and Impact Investing in Developing Countries

As part of the business program we've also taken field trips to three different social enterprises based in the UK. My group went to a place called the Brigade, an old fire station converted into a restaurant and cooking school for unemployed and marginalized persons.

Through the humanities component, we've had lectures on topics like "Varying Concepts of the Jihad", "Israel-Palestine: The Anatomy of Geopolitics", "Media and Global Imagination", and more. We've also had the opportunity to visit synagogues and mosques in London as well as attend a shabbat dinner.  Read the full program agenda.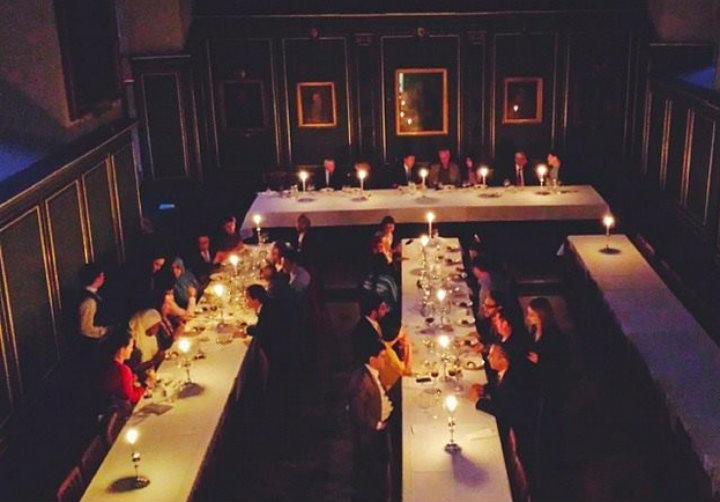 Finally, the food has also been amazing. The above picture was taken at our dinner at Magdalene College. It felt just like a scene from Harry Potter! After dinner Tristram Hunt, a member of Parliament, shared his thoughts on education and immigration in the UK.
All in all, similar to my PopTech fellowship experience last year, I've had the opportunity to work with some truly brilliant minds who share a passion for creating sustainable businesses with social impact. I'll be coming home inspired with a number of new ideas to help take TechChange to the next level.