If you're interested in learning more about this class, please check out the course page for more details on speakers and course topics or apply now to reserve your seat.
This coming Monday, September 3, class will begin for TC103: Tech Tools and Skills for Emergency Management, which aspires to give a comprehensive introduction of everything a helpful techie needs to know in an emergency: designing a cross-institutional response plan, crowdmapping who needs help, coordinating boots on the ground to save lives, and protecting those who are most vulnerable from any additional harm, let alone yourself from legal liability. Here are just a few thing that we're really looking forward to in this upcoming course:
As much of the Caribbean braces for the possible effects of Hurricane Isaac, Neil Laslett of the American Red Cross will discuss some of the technical challenges in anticipating and responding to emergencies. From the use of Hurricane App, to easy-to-use SMS donations (provided by mGive), disaster relief worldwide is transforming and being transformed by technology. Looking at how mapping tools can also be used in these types of situations, Robert Soden of the World Bank will talk about GIS issues for disaster response based on years of experience as both a developer and an analyst. Finally, we'll hear from Vincenzo Bollettino from the Harvard Humanitarian Initiative. Through his work with the Satellite Sentinel Project, he'll speak to the nexus between technology and human rights.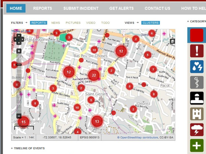 But the tools are only part of the story, now that disaster responders can tap into networked communities of interest that can help process massive quantities of data in a timely manner. The most obvious example of this is Ushahidi, which rose to the forefront due to its Haiti earthquake response. Ushahidi Trusted Developer John Etherton will talk about how technologists can design and adapt technology to empower crowds to make a difference. But crowdmappers need help and protection too — legal liability expert Ed Robson will talk about how networks like Crisis Mappers and Standby Task Force can protect themselves from legal liability in this developing space.
We at TechChange are truly excited about the current lineup for TC103. The best part of our job is being able to work with a diverse group of students from all around the world, and being able to sharing in the collective learning experience. See you in class!