The recent four-week online certificate course on TC105: Mobile Phones for International Development was our largest and most diverse class to date with 70 participants from 32 countries. Given the immense demand we've decided to run it again this summer for those that missed out on this one. Sign up now
Some notable organizations involved included:  ADRA DR Congo, Concern.net, Counterpart International, FHI 360, Indiana University, Indigo Trust, Inter-American Development Bank, Johns Hopkins Bloomberg School, Languagemate, Marie Stopes International, Mercy Corps, Pact Cambodia, SeeSaw, UNC Project Malawi, UNICEF, University Children's Centre, World Vision Canada and more!
Some highlights from the course:
GeoPoll Survey: We teamed up with GeoPoll to do a mobile survey in Tunisia with over 400 respondents. Participants crowdsourced questions in week one and reflected on responses in week 4 once we received the results. A huge thanks to the GeoPoll team for letting us use their platform to demonstrate how mobile survey tech works.
Mobile Medic Live Chat: Isaac Holeman and the team from MedicMobile led a fantastic live discussion on some of their recent work building SIM card applications that we and the class were very excited about.
Live Interviews: We had some truly fantastic live interviews with Ken Banks founder of FrontlineSMS, Matt Berg of the Modi Research Group at Columbia University, Patty Mechael of the mHealth Alliance, KP Yelpaala of Access Mobile, Toni Maraviglia of mPrep Kenya, and Amy O'Donnell of FrontlineSMS Radio. For this course we said goodbye to UStream and integrated a brand new video streaming system which is much more robust and powerful.  Now we can do live interviews with multiple video feeds from different locations streaming at the same time!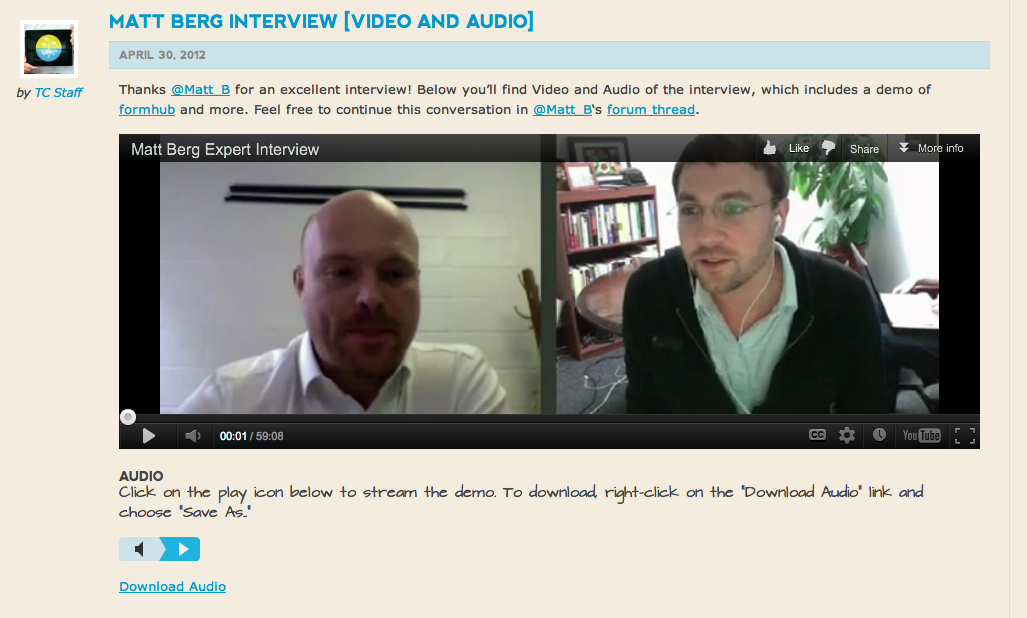 Final Projects: As a final project participants were asked to select from a range of options that included interviewing a classmate to writing about a resource or tool that we didn't featured, to doing a video/email pitch advocating for a particular strategy or tool, to producing a curated guide of links and conversations that were most relevant to them. Check out two of these projects from Roos who wrote a great blog post entitled "A wake up SMS for Global Mental Health: mhealth in 40 short videos" and Trevor who used a tool called Storify to produce this awesome narrative on 10 things to consider for NGOs new to mobile tech.
What our participants said: Based on evaluations we conducted after the course 100% of participants felt their expectations were met or surpassed and 100% said they were likely or very likely to recommend the course to others. Here are a few quotes from participants who took the course:
"I was very impressed with the organization of information, the social aspect of the platform in general and the depth of expertise by TC staff and experts. I was also generally stunned by the incredible group of students in this course. It was down right inspiring really."
"TechChange's course was both inspiring and informative. We received great information on the various types of mobile tools employed globally, and had engaging discussions with some high-caliber speakers!"
"The Tech Change class was amazing as usual. The conversations and forums that were held were extremely helpful and all of the moderators/classmates were proactive and eager to discuss different ideas and issues."
"As a student of global development technologies, I saved countless research hours by taking TechChange's course. TC's platform not only structures a dynamic new learning environment but also does it with an impressively philosophy that stabilizes a vastly growing field."
"Recently, I had the great opportunity to lecture virtually to a TechChange class of about 70  students in 30 countries interested in technology for change.  It was a great experience and represents what education will increasingly look like moving forward." – Matt Berg, Columbia University.   
It's been almost a year since we started doing online courses and we've learned an amazing amount. Read Linda Raftree's blog post interview with us highlighting some of these lessons learned and our plans for the future.
Next Course: Finally, we've had a number of folks write to us and request that we teach the same course again soon so this summer we will offer TC105 from June 18th – July 14. Its going to be an amazing class – we'll be doing more live tool demonstrations, inviting a whole new cast of guest experts, adding a really neat module we've been working on called agree/disagree, and so much more.
Reserve your spot in our next Mobiles for International Development online course today.