Zombies have started to make their way into the DC Metropolitan Area! Yesterday the TechChange team delivered another FrontlineSMS simulation, this time set against the backdrop of a Zombie Apocalypse. The training was part of Challenge Accepted 2012 a weekend conference for undergraduates hosted by Americans for Informed Democracy.
Participants were divided up into teams of the Zombie Control Task Force  (ZCTF) and tasked with responding to the sudden appearance and spread of zombies in the city. They then had to set up the FrontlineSMS platform and determine a strategy for communication between  field workers and HQ, and civilians in need of treatment (all while avoiding a roaming Zombie).
Participants were asked to consider workflow questions such as:
How will you alert civilians when new information becomes available?
Should all civilians receive the same information? How will they be grouped?
What types of information will you need to gather from you field workers? What strategy will you use to ensure adequate communication between HQ and the field?
How will you verify the integrity of information from the field?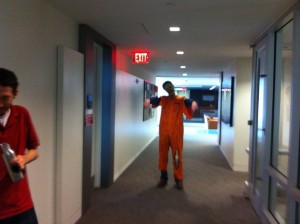 We've found that this is a great way to learn the potential and pitfalls of a tool like FrontlineSMS while keeping things engaging and fun. We're excited about running more of these in the months to come (especially now that we have all kinds of new zombie equipment:)
If you're interested in learning more about our courses and simulations consider signing up for our next online course TC104:
Global Innovations for Digital Organizing
. The course starts May 14th and there are sure to a few zombie scenarios in that one as well:)