During the protests in Tahrir square, one Egyptian activist tweeted: "We use Facebook to schedule the protests, Twitter to coordinate, and YouTube to tell the world." A similar phenomenon is happening with the response to the most recent Mumbai bombings, where Mumbai residents and a concerned online community are collaborating through a variety of online tools to gather information and potentially save lives. According to the Economist blog:
"AT 6:54 pm the first bomb went off at Zaveri Bazaar, a crowded marketplace in South Mumbai. In the next 12 minutes two more followed in different locations in the city. Even before the blasts, torrential rain meant that roads were clogged. The attacks added to the confusion just as millions of people were returning home from work. With telephone lines jammed, many Mumbaikars turned to a familiar alternative: they posted their whereabouts, and sought those of their close ones, on social networks.

Facebook doubled up as a discussion forum (and sometimes got philosophical). Users on Twitter, meanwhile, exchanged important real-time updates. Moments after the explosions, a link to an editable Google Docs spreadsheet was circulated frantically on the microblogging site. It carried names, addresses and phone numbers of people offering their houses as a refuge to those left stranded. The document was created by  Nitin Sagar, an IT engineer in Delhi, 1,200km (720 miles) away."
It remains to be seen whether these efforts are actually helping, but it's clear that there is tremendous potential for leveraging large groups for online endeavors, especially among populations such as Mumbai, which is tech-savvy with a a tragic history of terrorist attacks. The online response after the 2008 Mumbai attacks may offer some insight, where the media cheered as online networks served as the primary source of developing information, only to do an about-face when cyberskeptics noted that the terrorists themselves used GPS and Google Earth to plan the attacks.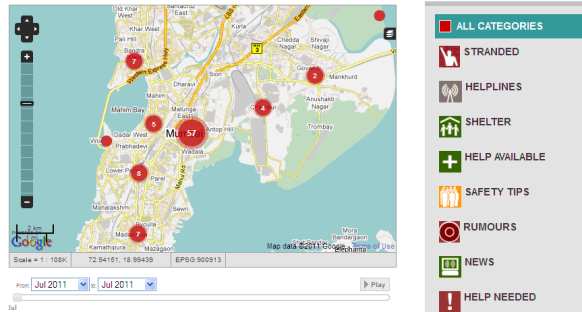 If history is any guide, we can expect a similar pattern when details of this most recent attack are revealed. These terrorists–like their predecessors–will likely also have used the online tools at their disposal. Should that happen, I only hope journalists keep in mind Bruce Schneier's take on the 2008 attacks:
"The Mumbai terrorists used Google Earth to help plan their attacks. This is bothering some people….Of course the terrorists used Google Earth. They also used boats, and ate at restaurants. Don't even get me started about the fact that they breathed air and drank water….That's true for all aspects of human infrastructure. Yes, the bad guys use it: bank robbers use cars to get away, drug smugglers use radios to communicate, child pornographers use e-mail. But the good guys use it, too, and the good uses far outweigh the bad uses."
Christopher is the newest member of the TechChange Team and is our Director of Middle East Programs. Keep tabs on him on Twitter: @neuguy. We're excited about having him on board!

If you'd like to know more about how to use these tools in your academic or professional work, consider taking our course Global Innovations for Digital Organizing: New Media Tactics for Democratic Change.