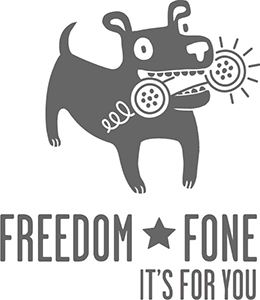 Freedom Fone, a service that is essentially an Interactive Voice Response (IVR) recently launched in conjunction with Frontline: SMS.  It's basically an open source software platform that takes text messaging and partners it with automated voice menus as a way to share information; it is relatively cheap and can be used by most mobile phone subscribers, of which 60% of the world is (according the United Nations).
Freedom Fone can be used to target communities that have been marginalized, those living below the international poverty line and those that are underprivileged.   Freedom Fone offers two way communications and information sharing to these communities.
Using cell phones, which most people in the developing world have access to, Freedom Fone seeks to partner it with interactive audio programming focused on issues that matter to people – agriculture, education, health, treatments for diseases and other important subjects.   When a user dials in, they are greeted by voice menus that share pertinent information, in the user's language, which makes them a smart tool for both disaster/crisis response and as a way to engage radio stations and radio listeners – still the top way to get information out in the developing world.
This is a way to share information, through audio, through mobile phones.  People can call in and receive crucial information they might not otherwise have access to, particularly if they are illiterate or an in area where such information is not readily available via newspaper, television or on signage.
Developing countries face several challenges, for example, authoritarian governments block the free flow of information or citizens have limited access to Internet and computers.  By using the mobile phone, the opportunity to access key information is made available to many more people, people who need that information.  The system is set up to deliver information and receive messages so this platform could be used as a tool for citizen journalism or as a way to engage citizens around their thoughts on a particular issue. Information regarding health issues, discreet information to marginalized populations, current events and important news bulletins and other kinds of information can be shared through this service.
Organizations utilizing Freedom Fone need to have access to the Internet for setup, but users can use this technology through their mobile phone (no internet required); an important feature in the developing world.  Freedom Fone's uses interactive voice menus and call back features through mobile technology, so a user calls in and is directed to an automated menu.  Users are able to access information, through audio and voice, and all is done over the mobile phone so it eliminates the high costs VSAT or Internet technology.  There have been several positive examples of Freedom Fone's use, primarily crowd sourcing citizen's in Zimbabwe on their thoughts and opinions around a new constitution for that country.  Another positive is that there is no size limit or geographical area limit to use this service, meaning you can crowd source as small or as large of a population as you need to.
However, there are some drawbacks.  Though Freedom Fone is a non-profit entity, there is still a small cost to the user, the price of a phone call.  With many countries living under $1 a day, for example Zimbabwe has a 90% unemployment rate, this can amount to a high cost for citizens.  In addition, not all countries, Zimbabwe included, have media freedom and sometimes the government or other regulatory agencies want to control what information is being made available to the public, which can hinder progress and growth in a company such as Freedom Fone.
Angela Baker is pursuing her Masters Degree in Conflict Resolution at S-CAR George Mason.
Please take a look at our online certificate course, Mobiles for International Development: New Platforms for Public Health, Finance, and Education that teaches how to use Freedom Fone and other mobile tools for international development.