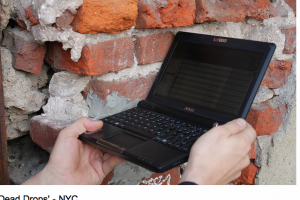 A technological search and find; a social media scavenger hunt.
An advanced way to stay connected while being offline or a plot with technological vandalism written all over it? An anonymous treasure or a mission of digital dangers and uncertainties? To participate or to self-censor? Aram Bartholl is founder of the "Dead Drops" project — an anonymous, offline, peer-to-peer file-sharing network in public space. Infiltrating the city with digital information, this Berlin-based artist is interested in bridging net space data with everyday life — connecting the digital world and physical world.
Contrary to a "Live Drop," a "Dead Drop" defines a location where information is exchanged between people — which in the case of Bartholl's innovation — is any place the USBs are located.
Bartholl began this tech-savvy — and tech-adventurous — project during his EYEBEAM residency in New York City. By October 2010, five "Dead Drops" had been cemented in NYC: 87 3rd Avenue, Brooklyn, NY (Makerbot), Empire Fulton Ferry Park, Brooklyn, NY (Dumbo), 235 Bowery, NY (New Museum), Union Square, NY (Subway Station 14th St)
and 540 West 21st Street, NY (Eyebeam).
The thrill of discovering what content might be on the "Dead Drops" seems exhilarating, but also eerie and unsettling. Who knows what's on the USBs — from photos to files, music and more. The mysterious content shared via "Dead Drops" is reminiscent of the Nine Inch Nails' 2007 digital project, wherein USB drives — equip with uploaded songs — were found in concert hall bathrooms in Portugal, Spain and England.
Curiosity — and maybe a new original Indy song or two— aside, is it worth risking the run of a potential computer virus to see what's saved on a "Dead Drop"? Bartholl's response: "Some people are concerned about viruses, but the point is that the dead drops are public and you can't control them. That's the whole idea. It says a lot about how we perceive public space on the internet and public space in the city."
So, what would you do — should you come across a "Dead Drop" — connect or not connect? And if you already have plugged into this digitally portably file-sharing project – tell us about your experience!
Follow "Dead Drops" on Twitter to see how this project is spreading across the world.
Photo: http://www.flickr.com/photos/bartholl/5126813334/in/set-72157625142951009/