Deck the halls, wrap some presents and pour yourself a tall glass of eggnog: Cloud storage gives you one less thing to worry about this holiday season.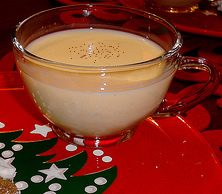 Unfamiliar with cloud storage? Cloud storage is a place that ensures your personal computer files are safe in the event of a computer crash, theft or accident.  We've all heard the horror stories of someone's computer crashing and the subsequent loss of irreplaceable family photos and important documents. Just recently I was in the Apple store and overheard a grieving woman recount how her toddler spilled milk on her laptop. She lost all her files.  I personally have a lot of memories stored on my computer, which I'd be quite devastated to lose.
So how can you have peace of mind when computer hardware is so fickle?  With a cloud backup service you can upload your data remotely, use it to host your files and ensure everything is backed up and safe.  Here are some of the perks of floating your data on a cloud.