By Jennifer Estevez, co-facilitator for TC108a. Learn more about the course here.
For an intrapreneur, the ability to innovate and quickly solve problems within their institution is one of the strongest tools in their arsenal. Companies are looking to hire creative and innovative team members in the hopes of not becoming stale or falling behind more flexible and agile start-ups. To stay ahead of the competition,senior managers are creating roles for innovation specialists or advisors, experts who have previously used creative thinking to launch successful projects. However, in labeling enterprising individuals as "innovators", these managers may doom intrapreneurs from succeeding before they even start.
Here are 6 reasons why:
1. As an official innovator you are forced to take risks in the spotlight.
As the person who is looked upon to dazzle with your new creative solutions all eyes are on every move you make. But as real innovators know, the only way to create real change is to take risks, and with those risks often comes the potential for failure. Being under the spotlight can magnify failures and make innovators more risk averse— influencing their ability to create the type of disruption needed for real organizational change.
2. There is a human bias against new ideas.
Although 'innovation' has become an increasingly popular buzzword, the overwhelming majority of people maintain a strong, innate bias against new ideas—paradoxically, even those ideas they claim to want. For a work to be truly creative, it has to depart from the norm; that very departure makes many people uneasy. A 2011 Cornell study on the subject found the following:
Creative ideas are by definition novel, and novelty can trigger feelings of uncertainty that make most people uncomfortable.
Objective evidence shoring up the validity of a creative proposal does not motivate people to accept it.
Anti-creativity bias is so subtle that people are unaware of it, which can interfere with their ability to recognize a creative idea.
Which brings us right to our third point…
3. Co-workers comfortable with the status-quo will be suspicious.
Let's face it, many people have the attitude, "if it ain't broke, don't fix it." These people will never understand the need for change or why they would even need to hire someone to that end. Innovative ideas can displace colleagues or at the very least create more work for them. Any time the word innovation is thrown out as a solution to a problem, it may mean a new way of doing business that will put jobs in jeopardy. Not everyone is adaptable in the workplace and this fear can cause distrust, or negative perceptions, of innovators.
4. You'll have permission to do everything but the ability to do nothing.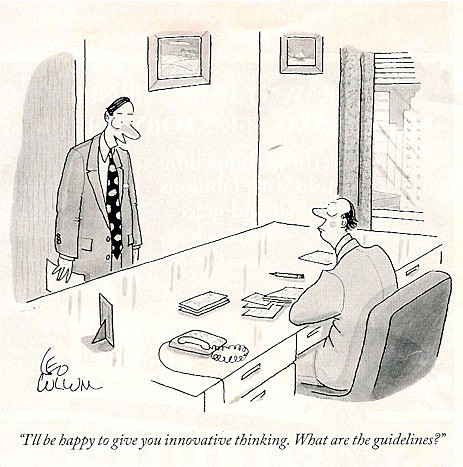 As an innovator you have free reign to be as creative as possible and you'll even have the resources to back that up. What you won't necessarily have is buy-in from everyone at your organization, or even your senior management when you start developing your new ideas. Without buy-in, success will be difficult and you'll likely spend most of your time convincing others of your great ideas instead of implementing them.
5. Collaboration between Innovation Specialists is difficult.
In an ecosystem where innovation is part of the culture and ideas may come from anywhere, innovators can create collaborative projects where everyone gains. However, when 'innovation specialists' are scattered throughout the organization and asked to work together, the competition for results does not lend itself to inclusive innovation, but can instead fragment the most creative forces within the organization.
6. Your work could turn into an Innovation Showcase.
The scope that technology can now reach is so exciting and sexy that it can produce a constant desire for new ideas. When a hyper-innovation environment is created, it becomes difficult for innovators to get the support they need for long-term sustainability of novel ideas. Senior managers who don't truly understand the process of innovation may demand a never-ending supply of ideas instead of real or lasting change for the organization.